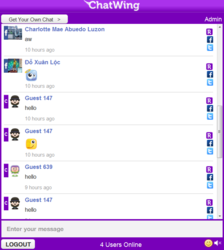 San Francisco, CA (PRWEB) October 27, 2012
Wordpress plugins are now being searched in different sectors of the Internet. Plugins are little applications that can be installed to a blog or website. Alternatively, plugins can be used to improve a certain program or application. Because of hundreds and thousands of websites created everyday, people can now gain access to various plugins. Upon realizing the importance of the Wordpress plugin community, the Chatwing team has launched a free chat box that can provide informational discussions and global connectivity. The Chatwing application is also compatible to all blogs and websites.
Based on the research of the Chatwing team, Wordpress plugins are often in demand because bloggers want to have their blogs on a very professional level. Plugins can also improve blogging experience, granting edge to many bloggers who are aspiring to have many subscribers and followers. Chatwing's free chatbox can help a blogger generate online presence through the means of improved communication. A single Chatwing chatroom has the capability to handle up to one thousand users in real-time. Visitors can also log in with their Facebook and Twitter accounts, widening social media horizons.
At first, the Chatwing chatbox has almost struggled in gathering a continuous stream of online popularity. When the developers have introduced highly flexible features, the influx of users doubled, paving the way for an improved online presence. In just few months, the Chatwing chat app has been introduced in the prominent communities of Wordpress, Typepad, Livejournal, and Tumblr. Basically, Chatwing's free shout box can now be used in many online and social media purposes.
Chatwing's developers are always keen in reviewing the needs of bloggers, especially those who are looking for ways on how to achieve better online presence. To better address these needs, the Chatwing chat widget team is ready to create new developments in the free chat app.
About Chatwing.com
Chatwing.com specializes in the new field of website chat. Over years, the Chatwing team has introduced live chat widget for hundreds and thousands of blogs. The Chatwing application bridges people from many parts of the world, creating global synergy through the Internet. The shout box can be installed in just seconds, and it can be used for varying purposes such as leisure and Internet marketing. It also allows a user to customize the size, color, and name of the widget. Chatwing is 100% free for everyone.