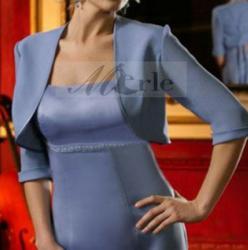 (PRWEB) October 27, 2012
On the evening of October 26, 2012, Merle Dress, who has successfully launched its new collection of Shawls, Wraps and Petticoats recently, a leading supplier of wedding dresses, held a Halloween party.
Donnie Terry, CEO of Merle Dress, spoke at the beginning of the party, "We make a remarkable success in 2012, and we have developed from a small company to a 120-staff company. I'm proud of all of you. Thank you very much really. Halloween is a fun time of year, and enjoy tonight!"
The party began with the opening dance of Gangnam Style, and the entire audience broke into loud applause. At this party, all kinds of Halloween party elements came on stage one by one: masked ball, DIY pumpkin lantern, magic show, and more.
There are altogether 18 customers from six countries gathered to enjoy the party. "It is absolutely the most energetic company party that I have seen. So fantastic. I like it!" A customer from London, Alex said like that.
Nicholas, a top designer of Petticoats, said, "Halloween party will help to enhance the convivial atmosphere on Merle Dress."
About Merle Dress
MerleDress.com is the leading supplier of wedding dresses, prom dresses, special-occasion dresses, and wedding dress accessories from China. Merle Dress started with a basic idea of helping women dress better and is now famous for its outstanding quality in fabric, materials, and fit without the inconvenience and costs of traditional bridal boutiques and retailers.
For more fashion tips, please visit: http://www.merledress.com/blog/