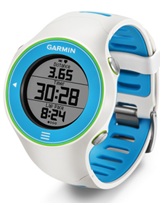 In this category of fitness watches we felt the Garmin 610 was the best cycling watch and the Garmin 210 was the best pure runners watch
Bozeman, MT (PRWEB) October 27, 2012
The Garmin 610 and Garmin 210 have been named top integrated GPS watches for cycling and running respectively for 2012 by the Heart Rate Watch Company.
"When we us the term integrated GPS watches we simply mean that the battery and GPS are built directly into the body of the watch unit", says Rusty Squire, President of the Heart Rate Watch Company. He adds, "In this category of fitness watches we felt the Garmin 610 was the best cycling watch and the Garmin 210 was the best pure runners watch".
Both GPS watches last around 7 hours in GPS mode per charge so they would not be suitable for ultra-marathoners or Ironman distance triathletes.
The Garmin 610, in particular, was the world's first touch screen navigation watch. "I own a 610 and used it for over 3 months", says Squire, adding, "I loved the touchscreen navigation once I mastered it because it is so intuitive, plus the advanced fitness features on the watch are a real plus".
Both the Garmin 610 and 210 just recently came out with new multicolor versions in time for the Holiday season. "These new multicolor versions look sweet and should help both models appeal more to women because they are two of the smaller GPS watches made and fit women".
The new Polar heart rate monitor the Polar RC3 was going to be considered but it won't arrive until mid-November so it was not included for 2012
"This makes Holiday shopping simple, if you have a runner on your list and get them a Garmin 210 they'll be happy", says Squire. He adds, "If it is someone that like cycling, running, Nordic skiing and a long list of outdoor sports get them the Garmin 610".