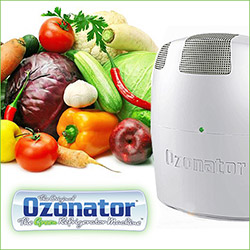 The most exciting invention for the refrigerator in the last 1200 years, said Lee Iacocca
Las Vegas, Nevada (PRWEB) October 27, 2012
Today, Kevin Brooks of Ozonator LLC, is pleased to announce that their Ozonator™ known as the Green Refrigerator Machine™ is a patented technology update that uses ozone to organically disinfect the family refrigerator, keeping perishable foods fresher longer. Thanks to its patented technology, the Green Refrigerator Machine when placed on the top shelf of the refrigerator, helps families prevent food waste, saves on grocery budgets, and makes eating fresh foods more affordable. At a cost of under forty dollars, the battery-run Green Refrigerator Machine by Ozonator is the most innovative and inexpensive refrigeration addition in the last 100 years.
The Green Refrigerator Machine by Ozonator protects your family refrigerator from unwanted germs and bacteria by dramatically weakening potential for spreading germs among family members handling and passing foods like meats, fish, fruits and vegetables from farm to the table. Microorganisms such as bacteria, mold, and yeast cause spoilage of fresh goods and decrease their self-life. Organic or bacterial "slime" grows on produce and refrigerator coils, pans, and in drain lines that plug or restrict flow, causing cross-contamination to the other foods in the refrigerator. Ozone, properly used, will promote a healthy environment for your food and family.
Ozone is the natural way our planet purifies the air we breathe and cleans our environment. It helps make the sky blue, purifies the air we breathe and cleans the environment. And, it is the most powerful disinfectant readily available to mankind and approved by the United States Food and Drug Administration (FDA.) Ozone increases the storage life of foods by oxidizing some chemicals and by neutralizing ammonia and ethylene and is a safe and natural way to protect perishable foods in your refrigerator.
Offered as the perfect Holiday Gift for people who want to focus on green savings, the Green Refrigerator Machine by Ozonatoris offered online for $39.95 at a discounted price for a limited time through http://www.ozonator.com or call 702-363-5343.
The Ozonator™ popularly known as The Green Refrigerator Machine™ promotes a clean environment inside your refrigerator. The Green Refrigerator Machine by Ozonator™ has been proven by a leading independent laboratory to produce ozone in safe quantities, reduce orders, and extend the shelf life of refrigerator stored perishable foods. The Green Refrigerator Machine recently took first place as Best of Expo at the New Living Expo in San Francisco and placed among the top five in the New Products Category at Go Green Expo in Los Angeles. Priced at $39.95, with the savings you get from food staying fresh longer, it will pay for itself within two months. To help stop fresh food waste become a Green Savings Affiliate at http://www.ozonator.com.