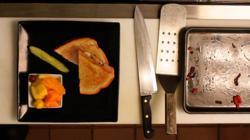 Created over the span of three weeks, and including production in Chicago and Washington D.C, this is a great video tool for Hyatt.
Chicago, IL. (PRWEB) October 30, 2012
Absolute Vision Media announces a new training series for Hyatt Hotels and Resorts. This series serves as Hyatt's new menu roll-out in their select service brands, Hyatt Place and Hyatt house. Created over the span of three weeks, and including production in Chicago and Washington D.C., the series will reach tens of thousands of employees.
"We couldn't be happier with the reception throughout the company," said Mark R. Smith, owner of Absolute Vision. "Hyatt has a very practical and very useful tool at their disposal with these videos, and we are proud to have provided that."
As recent hospitality trends have shifted towards providing an improved guest experience, an enhanced food and beverage menu has become a priority within the industry. Building upon a long relationship with Hyatt, Absolute's team worked closely with senior members of Hyatt's culinary division, as well as representatives of the Hyatt Place and Hyatt house brands. Together, the teams developed a custom training solution, featuring multiple items from each brand throughout the preparation process.
This success is just one of a recent string of successes for Absolute Vision Media. Continuing alongside a recent commercial purchase by the Chicago White Sox, Absolute continues to service some of Chicagoland's best known names, including Komatsu Ltd., Medieval Times, Federal Life Insurance Company, and dozens of other iconic brands.
Implemented as part of Hyatt's Connect network, the videos will be rolled out to tens of thousands of employees across the two brands. Hyatt house's training series prepares its employees for the implementation of their all-new H Bar menu, while Hyatt Place saw an upgrade to its current offerings as part of the Fresh 24/7 menu. The videos incorporate multiple angles of high definition footage, motion graphics, and interactive elements, to clearly and effectively train Hyatt staff.
To see video samples of the this current Hyatt project, as well as other video and media produced by Absolute, visit their Video Gallery.
For more information about Absolute Vision Media's new training series, please email Mark(at)AbsoluteVisionMedia(dot)com.
About Absolute Vision Media:
Absolute Vision Media is a Chicago-based media and production company. Whether for agency-style media, professional video production, or general marketing and advertising, Absolute offers national-level experience with local connections and know-how for corporate, industrial, commercial, and creative purposes. To learn more, visit http://www.AbsoluteVisionMedia.com.