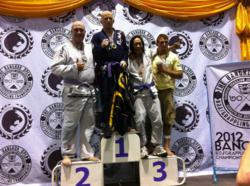 Its the last hard week of training in Thailand coming up and I want to make the most of it. - Jon Delbrugge
Elkridge, MD (PRWEB) October 27, 2012
Professional Mixed Martial Arts fighter, Jon Delbrugge, hailing from Ellicott City, MD, competed and won both divisions while on a training trip to Thailand.
Delbrugge, a graduate of Glenelg High School, is on a 2-week training trip to Thailand along other instructors from his training camp, Crazy 88 Brazilian Jiu-Jitsu. Thailand is often-visited by MMA fighters as it is the birthplace of Muay Thai kickboxing, one of the martial arts most commonly seen in MMA events like the UFC.
Delbrugge has been training full-time at Sitmonchai Gym, a world-famous Muay Thai camp located just outside of Bangkok.
Despite a rigorous training schedule of 2-3 sessions per day plus running, Delbrugge returned to his first love, grappling, for the weekend, deciding to compete in the Bangkok Open of Brazilian Jiu-Jitsu - the #1 grappling tournament in South East Asia.
Delbrugge competed in the Purple Belt Middleweight category as well as the Open (All-Weights) group. He had six matches and won all of them.
Despite winning the tournament, Delbrugge plans to return to training as soon as possible. "I'll be back to Sitmonchai tomorrow. Its the last hard week of training in Thailand coming up and I want to make the most of it. "
Currently 1-0 as a Pro, Delbrugge plans on coming to Thailand at least once a year to continue training at Sitmonchai gym. While in the USA, Jon Delbrugge trains out of Crazy 88 Brazilian Jiu-Jitsu, a professional Mixed Martial Arts gym located in Elkridge, MD.