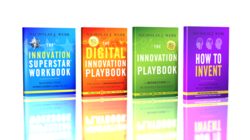 This honesty then creates true insight into what the customer really wants, likes, dislikes, feels – the Soul of the Customer as I call it.
Highland, UT (PRWEB) October 29, 2012
Nicholas J. Webb will be the keynote speaker at this annual conference of this Association for Strategic Planning. Nicholas is a world-renowned innovation thought leader and advisor to Fortune 500 companies. He is a prolific author with four books on the topic of innovation and customer experience, including The Innovation Playbook, The Digital Innovation Playbook, The Innovation Superstar Workbook and How to Invent. His books are used by universities and corporations as the curriculum for their innovation training programs. His Innovation Superstar program is used by corporations to train both teams and leaders on the latest best practice of consumer insights and innovation.
As a successful private inventor, Nicholas has invented more than 60 products, and has been awarded 35 patents by the U.S. Patent and Trademark Office. His innovations include a successful line of household products, fitness products and industrial technologies — spanning many industries. He is also the inventor of one of the smallest medical implants in the world, used to treat dry eye syndrome. He has also launched hundreds of new technologies to the market in his 25 year career.
Early bird registration for the "Emerging Themes in Strategy: Best Practice to Next Practice" seminar ends November 30, 2012
Conference Details:
Date: April 22-24, 2013
Location: Atlanta, Georgia
Venue: Atlanta Marriott Marquis
Visit ASP's Home Page To Learn More
Our Annual Association for Strategic Planning Conference is the world's premier forum for the exchange of professional ideas and experiences among strategic planning professionals. Each year our conference brings together thought leaders and practitioners dedicated to advancing strategic thinking, planning and action. At this highly interactive conference, you will learn effective tools and techniques for strategy formulation and implementation based on real-world case demonstrations and discussion. Our intent is that each attendee will leave with new knowledge that will enhance their own unique professional abilities.
At the Association for Strategic Planning (ASP), we have chapters through the United States and are expanding internationally. We were founded in 1999, and are the only not-for-profit professional association dedicated to advancing thought and practice in strategy development and deployment for business, non-profit and government organizations.
ASP provides opportunities to explore cutting-edge strategic planning principles and practices that enhance organizational success and advance members' and organizations' knowledge, capability, capacity for innovation, and professionalism.
This release is sponsored Strategy-Keys.com,  the popular website focused on business strategy best practices and innovations. Strategy-Keys.com is also a sponsor of Strategy Bridge Builder - a top strategy execution software suite for organizations.