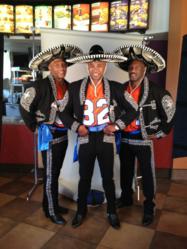 Vance Johnson is using this coin toss as an opportunity to bring awareness to The House, A Homeless Shelter for Teens
(PRWEB) October 28, 2012
In the 1980's Vance Johnson was part of the group known as The Three Amigos, which included fellow receivers Mark Jackson and Ricky Nattiel. This year marks the 25-year anniversary of "The Drive," the infamous series of plays lead by John Elway, which ended in a Mark Jackson touchdown reception to send the game into overtime. A field goal in overtime gave the win in this AFC Championship game against the Cleveland Browns. The Denver Broncos went on to play in Superbowl XXI against the New York Giants.
The Three Amigos have reunited this season to help the Denver Broncos bring back some of the nostalgia from their successful run in the '80's. Even Taco Bell, who used the Amigos in commercials 25 years ago, reunited the trio this year for a new series of ads.
Vance Johnson currently lives in Grand Junction, Colorado with wife and son. Mr. Johnson is using this coin toss as an opportunity to bring awareness to The House, A Homeless Shelter for Teens, which is the only licensed facility for homeless youth on the western slope. In that regard, the Three Amigos will hold an on-line auction for an official NFL football autographed by all three receivers. All of the proceeds will be donated to The House. The auction will take place on their website, http://www.shop3amigos.com and bidding will be open through midnight on Wednesday, November 7th. In fact, since Vance will be at Sunday's game and will be visiting with other past teammates, there is a possibility that this ball will include additional surprise autographs!
Vance Johnson and The Three Amigos are committed to making a difference off the field like they did on the field 25 years ago. In addition to supporting The House, A Homeless Shelter for Teens, The Three Amigos also plan to support The Food Bank of the Rockies and the American Diabetes Association.