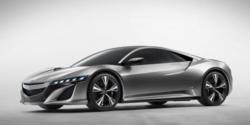 Honda officials have confirmed production of the Acura NSX hybrid.
Campbell, CA (PRWEB) October 27, 2012
Acura NSX Hybrid To Debut in Detroit
Honda officials, speaking to the media at this week's Sao Paulo Motor Show, confirmed that a production version of the company's NSX hybrid supercar will be on display in Detroit at the 2013 North American International Auto Show. Industry insiders say the production model will be a clone of the concept car, which indicates that Honda management remains committed to the concept's innovative design. When the car arrives in the U.S. for retail sale, it will be called Acura NSX, and will feature a lightweight body, all-wheel-drive capability, and various unique components. For the complete story, see:
http://www.myperfectautomobile.com/honda/acura-nsx-hybrid.html
Green Car of the Year Nominees Named
Five nominees for the Green Car of the Year Award, which will be presented at the conclusion of the LA Auto show Nov. 29, have been named. To make it into the final round, each car must demonstrate exceptional fuel efficiency. This year's contenders include the Toyota Prius C, Ford Fusion, Ford C-Max, Dodge Dart Aero, and the Mazda CX-5 SkyActiv. Ford's C-Max offers 47 mpg. Fusion comes in a hybrid model, but also an EcoBoost version. Mazda's SkyActiv takes advantage of the company's full range of fuel-saving technology, while the Dodge Dart Aero notches 41 mpg highway via specialized tires, sleek aerodynamics, and other features. For the complete story, see:
http://www.myperfectautomobile.com/ford/green-car-year.html
LA Auto Show Update
This year's LA Auto Show, which is open to the public from Nov. 30 to Dec. 9, looks to have the largest green vehicle contingent in its history. Hybrids, EVs, natural gas cars, and clean diesel vehicles will populate the heavily attended show by the dozens. By many measures, consumer interest in such cars has risen more than 50 percent this past year, and shows no signs of letting up. There will be more than 50 green cars on display at the 2012 LA Auto Show, many available for test drives. Audi is using this year's event to break major news about its clean diesel lineup, while Fiat will pull back the curtain on the all-new Fiat 500e electric car. Ford will show its C-Max Energi plug-in hybrid, Focus Electric, and Fusion Energi plug-in. For the complete story, see:
http://www.myperfectautomobile.com/ford/la-auto-show.html
Audi, Toyota Hybrids Aim for Shanghai Race
Teams who drive the hybrid supercars for Audi and Toyota are gearing up for the final leg of the FIA World Endurance Championship series in Shanghai this Sunday. The Six Hours of Shanghai event follows the most recent stop on the series at Japan's Fuji Speedway, where Toyota's TS030 took home first place. Two of the Toyota drivers will be on hand to pilot the ultra-powerful hybrid racer in Shanghai. Nicolas Lapierre and Alex Wurz will share driving responsibilities during the race, which takes place at Shanghai's International Circuit. The Toyota hybrid race car was developed under Le Mans Prototype regulations and was the first hybrid to compete in the FIA World Endurance Championship Series. Audi's R18 e-tron Quattro is a hybrid version of the Audi R18 ultra. The hybrid model uses a flywheel accumulator system to store energy. For the complete story, see:
http://www.myperfectautomobile.com/audi/audi-toyota-hybrid-race.html
Kepler Hybrid Supercar Resurfaces
Since its debut at the Dubai International Motor Show in 2009, Kepler Motors' hybrid supercar, called the Motion, has been rarely seen. This week, however, the manufacturer released updated video and photos, which many interpret to mean there will be more news about the car forthcoming. The Motion bears a re-examination due to the recent spate of super-fast, ultra-powerful hybrid specialty cars making the rounds of international auto shows. Boasting a total of 800 hp, 550 of which comes from the EcoBoost, the car features a monocoque chassis composed exclusively of carbon fiber. The front wheels are powered by a pair of electric motors which add 250-hp to the total power package. For the complete story, see:
http://www.myperfectautomobile.com/uncategorized/kepler-hybrid-supercar.html
About MyPerfectAutomobile:
MyPerfectAutomobile (MPA), a California-based news source for the hybrid, electric, and alternative-fuel transportation sector, covers breaking news on the green car front.
The MPA flagship website has grown into a major presence on the Internet. It features a complete shopping mall as well as a free-to-list classifieds section for all things green. For advertisers, MPA offers the chance to be in front of over 20,000 readers each month who are interested in hybrids and electric vehicles, as well as sustainable transportation in general.
Bob Twaalfhoven: President and Founder of MPA, is an MIT-educated engineer whose primary interest is planetary sustainability.
Larry Judkin, General Manger and Sales Coordinator, has tasked himself with taking MPA to the number-one spot among green transportation websites.
MPA's offices are located at 307 Orchard City Dr., Suite 210, Campbell, Calif. 95008.
For advertising opportunities, contact MPA directly: Phone: 408-963-6427 Fax: 408-963-6730 Email: driven (at) myperfectautomobile (dot) com Web: http://www.myperfectautomobile.com