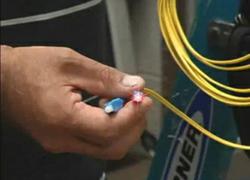 Walks the viewer through each phase of a real world fiber optic cable installation from concept to completion
Beachwood, NJ (PRWEB) October 29, 2012
LANshack.com - an online distributor and manufacturer of high quality datacom products, such as copper cabling hardware, fiber optic cable assemblies, tools and testers - launches its new Technical How-To video series.
First in the series is an 11-part comprehensive tutorial on Installing Fiber Optic Cabling. This tutorial takes the viewer through a real world fiber optic cable installation from concept to completion, with all the chapters available in an automatic playlist. It involves expanding an existing fiber run from a town hall building to the town's high school, in order to enable broadcast of live video from the school auditorium to the township's public TV channel. In the eleven chapters of the series, Tony Casazza, President of LANshack.com, walks the viewer through the process of each phase of the installation.
The first two chapters demonstrate how to use a visual fault locator (VFL) to trace, verify, and test the continuity of fiber. The VFL's signal is used in the town hall building to confirm an active connection. Safety tips for the VFL are outlined, as it utilizes a laser light that could be harmful to the eyes with direct contact.
Chapter 3 demonstrates the art of "snaking" or "fishing" wires across long sections of ceiling, as installation of the new fiber runs from a utility room to the auditorium.
The next several chapters (4-7) involve how to prepare innerduct for installation and how to pull innerduct into the ceiling, including several tips on dealing with the issues involved in a long run.
Chapter 8 shows a unique tech tip on how to use a splicing technique to connect two sections of innerduct together.
All the preparations to pull in the pre-terminated fiber optic assembly are discussed in Chapter 9 and the assembly is actually pulled into the innerduct in Chapter 10.
Chapter 11 demonstrates how to test the fiber optic cable from end to end (completion). Once the cable is fully installed, the VFL is used to verify the full continuity from end to end. All of the final connections are made and the job is tested by actually broadcasting live TV from the High School Auditorium.
This 11-part video tutorial is just one of many new videos that LANshack.com is releasing in the near future. Some of the other video topics will include, "How to remove a Pulling Basket," "Easy Installation of Pre-Terminated Fiber Optic Assembly," and a more in-depth video of "How to Splice an Innerduct." Visit http://www.lanshack.com to see these new videos along with new text tutorials and current industry news articles.
# # #
About LANshack.com
Founded in 1997, LANshack.com is an online distributor of high quality datacom products - such as copper cabling hardware, fiber optic cable assemblies, tools and testers - catering to the low voltage cabling industry for use in premise networks, security, and electrical applications. The e-commerce site includes many new user-friendly features to aid in the selection and purchase of network cabling infrastructure products, from streamlined navigation to expanded informational offerings, a quote generation system, and an easy checkout process.