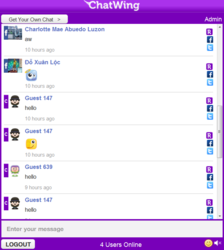 Cambridge, MA (PRWEB) October 28, 2012
The Chatwing Development Team has created a new bridge of website chat by launching a chat widget filled with useful and entertaining features. These new features were carefully pondered upon by Chatwing's developers, considering many important factors such as demand for communication and ease of access. Out of these features, the most famous is social media integration because it creates another form of leverage for everyone.
In the recent version of the Chatwing chatbox, users can now upload background images. If they don't want to upload, they can just select from Chatwing's collection of images. These images were contributed by different developers and programmers, and they were credited for it. According to many bloggers who have used this feature, the background images fit efficiently and they even made the chatroom more soothing to a visitor's eyes.
Users can even upload one song in the free chatbox. They can upload a MP3 link of their favorite song or tune, creating a nice environment in the Chatwing chatroom. Many users sent positive feedbacks about this feature, and they even suggested adding a playlist in which more songs can be added. In the coming months, the Chatwing Team will include a playlist option.
The Chatwing free chat box can also accommodate up to 1000 users online. This is useful for people who are establishing brands online. They can also create relationships in the least possible time. The Chatwing Team will continuously post updates in their Facebook page and blog series.
About Chatwing.com
Chatwing.com specializes in the new field of website chat. Over years, the Chatwing team has introduced live chat widget for hundreds and thousands of blogs. The Chatwing application bridges people from many parts of the world, creating global synergy through the Internet. The shout box can be installed in just seconds, and it can be used for varying purposes such as leisure and Internet marketing. It also allows a user to customize the size, color, and name of the widget. Chatwing is 100% free for everyone.