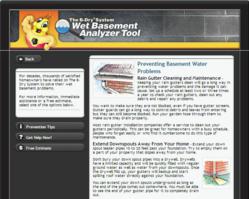 Spring Brook Twp, PA (PRWEB) October 29, 2012
Heavy rains of up to 10 inches are forecast to fall over coastal and inland areas from North Carolina throughout New England and may reach inland as far as Ohio and Michigan. With several inches of rain predicted to fall from Hurricane Sandy, water near the home can create a lot of problems.
Bob Clarke, an experienced B-Dry® System basement waterproofing contractor and a Director of the B-Dry Owner's Association explains, "Homeowners are in a panic. They are calling us in numbers for battery backup sump pumps, emergency generators for power outages and secondary pumps. Everyone is worrying about their power being knocked out and their basement leaking. They are thinking ahead to avoid problems that are most certain to come".
As Mr. Clarke explains, "There are some simple steps that homeowners can take right now to help avoid problems later on":
Clean your rain gutters – Remove leaves and debris from your rain gutters. From the recent Fall season, many homes now have an abundance of leaves on their roofs and in their gutters. Water falling over roof overhangs because the gutters are clogged, can dump a lot of water directly against the home's foundation and cause leakage problems inside.
Extend down spouts away from your home – With several inches of rain predicted to fall, water from faulty downspouts near the home can create problems. Buy lengths of PVC pipe at your local home center to extend your downspout pipes at least 10 feet away from the home.
Cover open window wells – Below grade windows can be a problem. You can buy inexpensive clear plastic window well covers at your local home improvement or hardware store to prevent rain from spilling directly in through your window wells.
Test your sump pump – Because many basement waterproofing drainage systems rely on an electrical sump pump, power outages and pump failure can be devastating. Hook your garden hose up to your slop sink faucet and fill water into your sump pump container. Alternatively, use buckets of water to fill your sump well to activate the pump. In general, water should not get any higher than the pump itself before it turns on. You can reach down and try to activate to pump's float by hand if needed.
If your pump doesn't turn on to expel the water, check the electrical outlet to make sure that the breaker or fuse hasn't tripped. If you are unsure, call a local plumber to check your pump or, simply replace it.
Buy or rent a portable generator – Because power outages caused by heavy rain, falling trees and high winds from this hurricane can cause power outages, a backup generator can be very useful for running your sump pump and other important circuits in the home. CAUTION: Do not run a portable generator indoors! Carbon monoxide from generator's exhaust can be deadly when used inside the home. Gasoline or diesel fueled engines must be located outside, not in basements or garages.
With coastal areas preparing for a foot or more of rainfall and inland areas expecting 3" to 6" of precipitation, homeowners and even state governments are preparing for the worst.
Mr. Clarke explained, "An inch of rainfall is equal to 27 thousand gallons of water over every acre of land. That's a lot of water! A 4 inch rain storm is the equivalent of 108,000 gallons of standing water on every acre around your property".
Being prepared in advance and taking steps to prevent likely problems is much easier than cleaning up flood damage afterwards.
For additional information,B-Dry.com offers tips on preventing basement water.