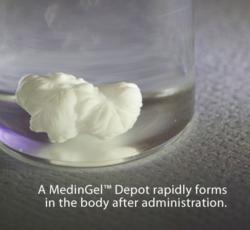 MedinCell will engage foundations and pharmas to develop more effective eradication strategies for neglected diseases.
(PRWEB) October 29, 2012
MedinCell will present its proprietary MedinGel technology for delivering longer-lasting medicine at the Life Science Summit in New York City on Oct 31, 2012. Dr. Anh Nguyen, MedinCell Founder and CEO, will demonstrate how its injectable formulation technology can substantially reduce treatment costs for arthritis, diabetes, pain control and mental health. MedinCell will propose a non-profit model for leveraging the MedinGel technology to eradicate neglected diseases.
The 2-day Life Sciences Summit connects thought leaders in the pharmaceutical industry with research foundations dedicated to the world's most critical global diseases in order to explore out-of-the-box solutions to disease. Dr. Nguyen commented, "Disease foundations have unique insights into promising treatments under development, as well as 'shelved' drug molecules that could become exceptional therapies if integrated with effective controlled release technology. We look forward to engaging both groups at the Life Sciences Summit to define novel approaches to global diseases."
Dr. Georges Gaudriault, CSO of MedinCell, further explained, "MedinGel is a bioresorbable controlled-release platform technology that overcomes issues such as limited duration and burst-related off-target effects which can severely limit the promise of an exciting compound. Furthermore, by improving pharmacological efficacy and duration, the time between administrations can be extended by weeks or many months to ensure greater treatment compliance."