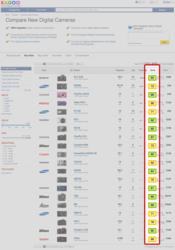 The website analyses hundreds of expert and user reviews for products to determine a unique product score
London, UK (PRWEB UK) 28 October 2012
Kagoo.com today announced a new product scores feature for consumer electronics. Product scores allow consumers to find the best products based on hundreds of expert and user reviews.
Normally consumers decide which product to buy by researching various expert review sites, reading user reviews and comparing these with product specifications and prices from price comparison sites. Kagoo.com now makes this stage of the buying process much easier by averaging expert and user reviews from multiple sites into a simple to understand product score.
The website analyses hundreds of expert and user reviews for products and combines this data with the statistical significance of those reviews and the product age to determine a unique product score. The product score, which is measured out of a maximum of 100, shows at a glance the top rated products in each category. The scoring algorithm is completely data driven and as such is totally unbiased and independent.
The product score is displayed next to product price and specification in a simple, intuitive table making it easy to compare products on these attributes without having to continuously alternate between review and price comparison websites. Products can be sorted by score to find the highest rated products and individual products can be compared head to head by score. Kagoo.com updates product scores daily as soon as new product reviews are sourced.
This latest announcement by Kagoo is part of the company's drive to make it as easy as possible for consumers to get the best possible deal on their electricals. By combining price tracking, voucher codes and product scores within a single interface it is now easier than ever for the consumer to get the best product at a great price.