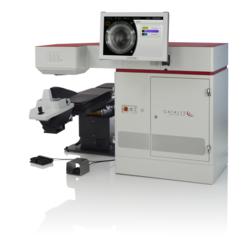 "This is the greatest advancement in cataract surgery in my life time," said Balaji Gupta, M.D. "We are bringing the precision of the laser technology to cataract surgery. This will allow safer surgery and better vision for my patients."
Elmhurst, IL (PRWEB) October 29, 2012
Elmhurst Outpatient Surgery Center, a multi-specialty ambulatory surgery center, is the first facility in Illinois to purchase the Catalys™ Precision Laser System for performing cataract surgery and single/multi--plane arc cuts/corneal incisions for astigmatic correction. Catalys combines a state-of-the-art femtosecond laser, advanced 3D Optical Coherence Tomography (OCT) imaging, sophisticated software and a host of other unique features that enable surgeons to provide patients a gentle, highly customized procedure with unprecedented precision. Elmhurst will begin performing procedures utilizing the Catalys in November 2012.
A cataract is an age-related condition in which the lens of the eye becomes progressively cloudy, making vision fuzzy and normal daily living activities more difficult. Cataract surgery is the only treatment for cataracts and is one of the most common procedures performed worldwide, estimated at 19 million cases per year (1). In the traditional (non-laser) procedure, the surgeon must perform several critical steps by hand. This manual approach limits predictability and precision, potentially affecting visual outcomes and complication rates. In recent years, femtosecond laser technology has been incorporated into cataract surgery to enhance the precision, accuracy and customization of the procedure. The Catalys Precision Laser System represents the next generation of this technology and has been shown in clinical study to deliver precision that is unequaled in the industry (2,3).
Using Catalys, surgeons can access and remove the cataractous lens with accuracy that is approximately 10 times greater than that achieved with manual technique (2,3). The precision and accuracy of these steps sets the stage for the positioning of the replacement lens. Proper positioning is especially important with advanced technology lenses that are designed to enable both near and far vision without contacts or glasses. These lenses demand a level of precision, accuracy and customization that traditional manual surgery struggles to provide.
In addition to its accuracy benefits, Catalys' sophisticated laser technology makes break-up and removal of the cataract easier and gentler on the patient (4). A clinical study has shown that Catalys reduces the amount of ultrasound energy needed during this step by approximately 96 percent, an improvement that may enhance procedure safety(4). Laser treatment with Catalys takes approximately three minutes and causes little or no discomfort to patients.
The Catalys Precision Laser System was developed by OptiMedica® Corp. (Sunnyvale, Calif., USA) in close collaboration with a Medical Advisory Board of cataract experts from around the world. Catalys was CE mark approved in August 2011 and market cleared by the U.S. Food and Drug Administration in December 2011. The system is available at leading ophthalmic centers around the world.
About OptiMedica
OptiMedica Corp. is a Silicon Valley-based global ophthalmic device company dedicated to developing performance-driven technologies that improve patient outcomes. Exclusively focused in the cataract therapeutic area, the company has developed the Catalys Precision Laser System to deliver unparalleled precision in cataract surgery. For more information, please visit http://www.optimedica.com.
About Elmhurst Outpatient Surgery Center
Elmhurst Outpatient Surgery Center is a multi-specialty, ambulatory surgery center performing over 8,000 procedures annually in Elmhurst, Illinois. Elmhurst Outpatient Surgery Center has been serving the communities within DuPage, Cook, Will, Kane and other surrounding counties since 1999. For more information, please visit http://www.eosc.org.
References
(1) 2011 Market Scope Report on the Global Cataract Equipment Market
(2) Friedman, NJ, et al., "Femtosecond Laser Capsulotomy," Journal of Cataract & Refractive Surgery, 2011 July; 37(7): 1189-1198
(3) Palanker, D., et al., "Femtosecond Laser-Assisted Cataract Surgery with Integrated Optical Coherence Tomography," Science Translational Medicine, Vol 2 Issue 58: 1-9 (2010)
(4) Dick, B. "The synergy of MICS and femtosecond lasers: the future of small incision cataract surgery," Ophthalmology Times Europe, 2012 April; Vol 8 Issue 3