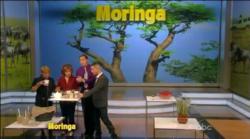 Newtown, CT (PRWEB) October 29, 2012
On Friday, October 26, "The View" featured Moringa oleifera as a "Slim Down Super Food" during a segment titled "Super Foods from Around the World." "The View's" guest expert Dr. Lindsey Duncan highlighted the energy-boosting, nutrient-rich benefits of Moringa supplements and teas as co-hosts Joy Behar, Sherri Shepherd, Whoopi Goldberg and guest co-host Mike Sorrentino sampled Moringa tea. Moringa Source, the premiere company dedicated exclusively to 100% natural Moringa products, proudly carries the most comprehensive line of Moringa supplements, teas and capsules, making it easy to get energized with this amazing super food.
Boasting 25 times more iron than spinach, 17 times more calcium than milk, and nine times more protein than yogurt, Moringa's naturally occurring nutrients, antioxidant and anti-inflammatory compounds uniquely maximize energy while simultaneously minimizing the need to ingest empty calories. During "The View," Dr. Lindsey explained that Moringa supports lowered blood sugar levels, lifting energy and supplying the body with the nutrients it needs without over-eating. He recommended drinking three cups of Moringa tea and taking two supplements daily, which can be purchased at MoringaSource.com.
The benefits of the nutrient-dense Moringa plant have been embraced in India, Africa and South America for more than 2,000 years. Like Dr. Lindsey and Dr. Oz – who featured Moringa oleifera on "The Dr. Oz Show" as a way to kick-start your day and re-energize your life – health and wellness experts in the U.S. and in Europe have recently begun recommending Moringa for sustained energy and general wellness. Experts call Moringa a super food in large part due to its unprecedented antioxidant content. In an independent test, Moringa Source Moring oleifera scored the highest antioxidant content of any food yet discovered.*
"Moringa has the potential to advance the health of and well-being of families throughout the world," said Jim Fitzpatrick, co-founder of Moringa Source. "We are pleased to see that leading medical professionals are recommending and calling attention to Moringa for optimal nutrition and sustained energy. As Moringa has done for centuries, the goal of Moringa Source is to offer an array of Moringa products that will balance and improve the lives of our global community."
Rich in antioxidants and over 90 nutrients such as vitamins, proteins, amino acids, iron and calcium, Moringa oleifera supports increased energy and flexibility; focus and mental clarity; digestive regulation; support for a healthy immune system; cell strengthening and restoration; support for healthy blood sugar levels; memory and sensory perception; supports more restful, restorative sleep cycles; emotional balance; reparation of skin elasticity to reverse the signs of aging; faster recovery from physical strain and ailments; and is a natural super food boost for pregnant women, breastfeeding mothers and their babies.
Moringa has been used as a natural alternative to support healthy blood sugar levels in diabetics, support increased joint mobility in those with arthritis, support healthy blood pressure levels, and support cellular restoration for those diagnosed or at high risk for cancer. Moringa is a raw food and is naturally vegan, caffeine-free and gluten-free. The World Health Organization and other charitable organizations currently use Moringa as a basis for daily nutritional programs helping malnourished children.
Moringa Source is sold in more than 30 countries, reaching across six continents. Moringa Source offers a variety of natural Moringa products including Moringa nutritional supplement capsules, Moringa tea, Moringa leaf powder, Moringa extract and Moringa oil. To learn more about Moringa and Moringa Source nutritional supplements and products, visit MoringaSource.com.
Consult with your physician and visit http://www.moringasource.com/disclaimer.php before using Moringa products.
*Moringa Source Moringa oleifera leaf powder measured over 157,000 umoles using the Oxidant Radicals Absorbent Capacity (ORAC) system of measurement developed by the National Institute of Health's National Institute for Aging.
About Moringa Source:
Moringa Source is the premiere resource for Moringa oleifera products. The largest company exclusively dedicated to 100% natural Moringa products, Moringa Source offers a comprehensive line of nutritional supplements designed to balance and improve the body's cognitive, neurological and physical well-being.
Moringa Source is committed to eco-friendly practices, growing Moringa oleifera trees on sustainable farms in countries known traditionally to have rich crops with high nutritional levels in Africa, India and Central America. Harvested by hand and vacuum packaged to preserve the highest nutritional value, Moringa Source delivers naturally vegan, caffeine-free and gluten-free products with health benefits for the whole family.
For information on Moringa Source, visit MoringaSource.com and follow Moringa Source on Facebook and Twitter.