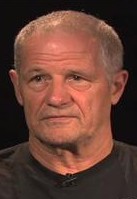 I am not saying that exercise was always possible because sometimes I just wasn't able to. But as I healed, I was right back at it.
Anchorage, AK (PRWEB) October 31, 2012
Warren Bailey has become the newest member of the Sarcoma Alliance's Board of Directors -- thanks to racquetball.
"I'm sure that exercise is one of the reasons I am alive today," says Bailey, who learned he had stage 4 leiomyosarcoma almost a dozen years ago. "We all have talents, like hitting a racquetball with power and exceptional speed, as I did before my cancer diagnosis. But power does no good without direction.
"Life is the same way. I needed to hold onto something (anything) to get me through. My promise to myself was that, if I made it, I would use racquetball to give me direction. I have lived up to that promise, adding more purpose to my life, and at the same time, helping others."
Although home is Anchorage, he has spent much time in treatment in Seattle. He says he also enjoys staying in St. George, Utah, while traveling throughout the West, playing racquetball and softball, talking to other cancer survivors and raising money for nonprofits, such as the Sarcoma Alliance.
Board member Suzie Siegel of Tampa says he has too many medals to list, but this year alone, his team won the Western National Championship in softball, he was inducted into the Alaska Racquetball Hall of Fame, and he won gold and silver at the International Racquetball Championships in singles and mixed doubles.
Bailey inspired the Alliance's new web page on the benefits of exercise, Siegel says. She says exercise can help:
-- Reduce stress and depression.
-- Reduce fatigue and increase energy.
-- Reduce nausea and improve appetite.
-- Relieve constipation.
-- Reduce the risk of blood clots.
-- Reduce the risk of osteoporosis, which can affect both men and women, young and old, if they get chemo, radiation or hormone treatment.
-- Improve balance and reduce the risk of falling.
-- Strengthen the heart and lungs.
-- Reduce weight (if needed).
"There is no evidence that weight puts anyone at risk of getting sarcoma," says Siegel, who was diagnosed with leiomyosarcoma in 2002. "But obese people tend to have more complications from surgery, for example, and obesity has risks for other illnesses, such as heart disease.
"Similarly, there's no evidence that links lying on the couch to sarcoma. But living a healthy lifestyle can improve your quality of life and up your chances of surviving -- just as it can for anyone, whether they have cancer or not. Why go through grueling treatment only to die of heart disease or a blood clot because you couldn't motivate yourself to get moving? You don't have to be an athlete like Warren. Talk to your doctor, nurse or others in your health-care team about what activities are safe and beneficial for you."
Sarcoma is a cancer of connective tissue, including bone and muscle. There are at least 50 subtypes, with leiomyosarcoma resembling smooth-muscle cells, Siegel says. Sarcoma can start anywhere in the body, at any age, from newborn on up.
People who have had bone, muscle, nerve and other tissues removed may have to change their physical activities, she says. For example, Bailey's sarcoma started in his right thigh, and muscle was removed from his knee to his groin. In sports, he can't jump like other players, he says.
He has had chemotherapy in addition to leg and lung surgeries, he says. "Exercise has prepared me for the treatments that I have had to go through. I exercised, not only after treatments, but during treatments. I can remember walking a couple miles a day while doing AIM [Adriamycin, ifosfamide and mesna], wheeling my IV along with me. I am not saying that exercise was always possible because sometimes I just wasn't able to. But as I healed, I was right back at it."
For more information, go to http://sarcomaalliance.org/what-you-need-to-know/adult-sarcoma/exercise/.
The Sarcoma Alliance is based in Mill Valley, Calif. It offers different ways for sarcoma patients to connect with one another, including Facebook, a Peer-to-Peer Network, live chat room, blog, YouTube channel and discussion board. It provides information from experts as well as grants to reimburse patients who have to travel to see a sarcoma specialist.