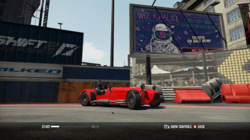 Social Media is such an important asset to any company wanting to connect, build, and maintain relationships with both customers and community members
Vancouver, BC (PRWEB) October 30, 2012
Reloaded Advertising, a leading in-game advertising company, announced today the launch of a YouTube Channel that will provide regular content such as video blogs, campaign clips, and in-game advertising examples.
The YouTube channel will be a great resource for potential clients, as well as members of the in-game advertising industry. It will also be a fantastic tool to help educate both gamers, or anyone else wanting to see video examples of in-game advertising in action.
In-game advertising is unique compared to other forms of advertising, in that it's widely embraced by gamers and members of the community, due to the fact that it adds realism to the games, and complements the gaming industry's always improving graphics.
The Youtube channel is just the latest addition to Reloaded's already robust social media arsenal, which includes Facebook, Twitter, LinkedIn, Google+, and Flickr.
"Social Media is such an important asset to any company wanting to connect, build, and maintain relationships with both customers and community members," says Jordan L. Howard, the 22 year old Founder and President. "YouTube makes perfect sense for us to showcase the effectiveness of in-game advertising, as screenshots which we rely heavily on, don't always give the ads justice."
The service that will benefit most from video content will be dynamic in-game advertising, as these ads take place within fast paced, moving video game environments. Reloaded offers dynamic in-game advertising to companies and brands looking to get their ads in video games.
About Reloaded Advertising
Reloaded is a World leading in-game advertising company, specializing in the delivery of complex advertising campaigns geared towards the highly elusive, yet captive video game playing demographic. Reloaded offers a variety of in-game advertising services, including dynamic in-game advertising, static in-game advertising, advergames, and most recently console integration.
About Dynamic In-Game Advertising
Dynamic in-game advertising is a type of in-game advertising that can be delivered within console, mobile, or flash games. It's popularly seen within Xbox 360 and PlayStation 3 games, taking the form of predetermined billboards or posters. The ads can be geo-targeted and updated in real-time to accommodate time-sensitive advertising campaigns.
For more information about Reloaded Advertising and the Youtube Channel, please visit:
http://www.reloadedadvertising.com
http://www.youtube.com/reloadedadvertising