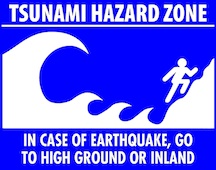 Honolulu, HI (PRWEB) October 28, 2012
According to Travel-Hawaii.com, no Hawaii hotels were damaged in yesterday's tsunami, in contrast to the Japan tsunami of March 2011 when several Hawaii hotels were damaged and one hotel, the Kona Village, was closed permanently as a result of tsunami damage.
Throughout the Hawaiian islands yesterday evening, hotel guests were evacuated from the lower floors of hotels. At the new Aulani Disney Resort, for example, guests staying on the lower three floors were relocated to higher floors. Those staying above the third floor were unaffected except that they were essentially "trapped" in their rooms until the tsunami warning was cleared around 1AM today Hawaii time.
According to the front desk personnel at the Courtyard King Kamehameha's Kona Beach Hotel, guests staying on floors 2 and 3 were relocated to higher floors, but then got to return to their rooms around 2AM when the tsunami threat had ended. This same hotel was heavily damaged in the 2011 tsunami with ocean water flooded the ground floor lobby, restaurant, and shops, but spared all the guest rooms.
Though the earthquake that triggered the tsunami occurred at 5PM Hawaii time off the coast of Canada, a tsunami warning was not issued until nearly 8PM, after ocean buoys between Hawaii and Canada indicated the possibility that a damaging tsunami could impact the islands. This left only 2.5 hours before the first tsunami waves were to hit. Civil defense sirens started blaring throughout the islands at 7:50PM, police set up road blocks to keep traffic from going into low-lying areas like Waikiki, and a general sense of bedlam ensued as residents and tourists tried to figure out what to do.
According to revelers interviewed at the popular Aloha Tower Marketplace in downtown Honolulu, several Halloween parties were abruptly interrupted, and a popular haunted house was quickly closed. Hundreds of people, many in costume, lined up to get their cars out of valet parking. Some found that the road home was blocked due to police road blocks, and spent half the night as refugees wherever they could find to go.
The tsunami warning was canceled at 1AM today, Hawaii time, with maximum wave heights reaching 2 feet in Kahului Harbor on Maui.
Author: John Lindelow
Publisher: Travel-Hawaii.com
About Travel-Hawaii.com Founded in 1997, Travel-Hawaii.com is a leading Internet booking service for consumers wishing to vacation in Hawaii. Travel-Hawaii.com maintains sophisticated online booking systems and databases focused on Hawaii travel.