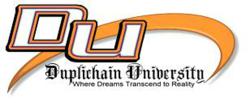 Lake Charles, Louisiana (PRWEB) October 30, 2012
Duplichain University's Vice Chancellor of Academic Affairs, Dr. Rose Duhon-Sells, will be leading the 22nd annual conference of the National Association for Multicultural Education conference (http://www.nameorg.org) in Philadelphia from November 28th to December 2nd, 2012. Dr. Duhon-Sells founded NAME 22 years ago based on the same dream that Duplichain University was built. It is an extension of her dream to contribute to improving life- long learning for people in this great nation. Over 1000 people registered and attended the conference last year. The theme for this year's conference will be "Realizing the Power of Movements through Multicultural Education." Many of the faculty, staff, and students at Duplichain University presented at the conference last year and will be this year. Dr. Rose Duhon-Sells presented a session entitled "Distance Learning Education: The Way of the Future" at last year's conference.
Duplichain University is a global online learning institution offering undergraduate and graduate degrees in Education and Criminal Justice. Duplichain University offers an innovative learning approach in a supportive, nurturing and flexible academic environment. Students enrolled in Duplichain University develop, refine, strengthen, and enhance their skills in a discipline of their choosing, while maturing academically, intellectually, and personally.