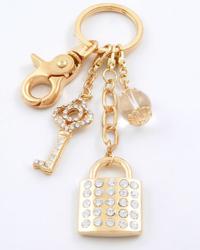 Our Designer Key Chain & Handbag Charms looks fantastic.
(PRWEB) October 30, 2012
"Retailing for just $20.00 this sturdy Designer Key Chain& Handbag Charms with Crystal Accents looks so fantastic, and sparkles so brightly, that it defies description" said Marianne Crabtree, Creative Director.
Ideal for use with keys, or hang it onto a handbag strap, tote or backpack for that extra pizzazz! All the charms are beautifully detailed - the lock charm is a generous 1 x1-3/8 inch size and is hand-set with clear crystal accents. Also includes a decorative faceted crystal ball to add that extra sparkle and uniqueness.
"Our entire line of products arrive beautifully gift wrapped," adds Crabtree.
Great Ideas Group Inc offers many different types of fashion jewelry including our Keepsake pocket heart love coins, charm bracelets, necklaces, brooches and special occasion gifts.
To learn more about our line of Charm Bracelets, or to browse our selection of fashion jewelry, please visit http://justaboutlove.com/goldlockandkeychain.html