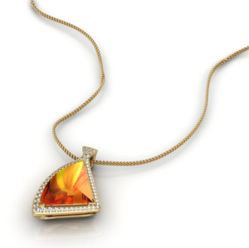 Jose Guzman's heart is in the right place and his work for Guzman 23 Foundation is most admirable," said Andries, "He is bringing people together for a good cause, and for us it was a delight to participate
Southlake, Texas (PRWEB) October 30, 2012
Pieter Andries, certified gemologist and founder of Pieter Andries, Creators of Fine Jewelry based in Southlake, was proud to be a sponsor of the Guzman 23 Foundation's 2nd Annual Celebrity Charity Golf Tournament. Andries has actively contributed numerous local organizations since opening his Southlake custom jewelry store in 1983. Continuing his tradition of philanthropy, Andries sponsored the golf tournament, which was held on October 15th at Trophy Club Country Club and donated a custom piece of jewelry for the foundation's live auction event.
The Guzman 23 Foundation was founded by former Major League Baseball player, Jose Guzman, as a way to honor his mother, Mrs. Maria Guzman, who was a victim of Alzheimer's. The organization is dedicated to serving families dealing with the disease. The Guzman 23 Foundation's goal is to be the first place families come when a loved one has been diagnosed with Alzheimer's.
Proceeds from the 2nd Annual Celebrity Charity Golf Tournament benefitted the foundation. Each golf team in the tournament was joined by a celebrity golfer. Following the tournament, a live auction was held to raise additional funds. For the auction, Andries, who is an American Gem Society Certified Gemologist, donated a one-of-a-kind citrine and yellow gold pendant designed in his Southlake custom jewelry design studio. Auctioned off by Andries himself, the pendant sold for $9,000, and the proceeds were donated to the Guzman 23 Foundation.
"Jose Guzman's heart is in the right place and his work for Guzman 23 Foundation is most admirable," said Andries, "He is bringing people together for a good cause, and for us it was a delight to participate, because the synergy among all the people present created something marvelous."
Alzheimer's is becoming one of the fastest growing diseases as the population ages, and impacting more families each day. The team at Pieter Andries, Creators of Fine Jewelry, was honored to contribute to the worthy cause and help ensure that the Guzman 23 Foundation can assist many families in caring for their loved ones through the hardships of Alzheimer's.
About Pieter Andries, Creators of Fine Jewelry
Whether it is a redesign or a dream about to become a reality, the creative design expertise that Pieter Andries has cultivated over 40 years, as a Master Goldsmith and American Gem Society Certified Gemologist, is reflected in each of his creations. Skilled professional craftsmen work under the direction of Pieter Andries utilizing state-of-the-art equipment and design technology to create a masterpiece of perfection and beauty – including diamond engagement rings, wedding bands and custom jewels. Offering the largest selection of rare, conflict-free diamonds in North Texas, Pieter Andries guarantees customer satisfaction of every piece of jewelry he creates. At Pieter Andries, it's all about YOU! For additional information, call (800) 233-3459 or go to http://www.pieterandries.com.