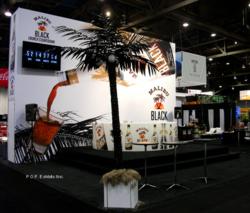 If a client is looking to wow a client base in Las Vegas, they call us.
(PRWEB) October 29, 2012
Las Vegas is known for glitz, glamour and of course, gaming. However, the trade show circuit is alive and thriving in Las Vegas and P.O.P. Exhibits has increased its Las Vegas presence significantly to meet the needs of exhibitors needing to rent a booth.
In business since 1995, P.O.P. Exhibits has set a high bar in the realm of exhibit rental equipment in Las Vegas and other popular locations for trade show exhibitors. With an expansive selection of custom, truss and double deck exhibit displays, there are display options for any trade show exhibitor.
"Because of the large volume of trade shows, we had to expand our Las Vegas exhibit rental inventory to meet the demand of our customer base. In fact, we've seen significant growth in our rental client base as a result of our decision to expand," said Wes Carlson, president of P.O.P. Exhibits. We're also heavily involved in providing exhibit rentals in Anaheim, Los Angeles and other cities.
If a rental exhibit does not suit your company's specific need, contact P.O.P. Exhibits. They will customize one for you.
"On average, there are two to three large trade shows in Las Vegas on any given day. We cannot possibly have enough stock exhibit rental designs to suit every possible need, so we are more than happy to listen to our customers and design one that will suit their needs and budget. That's what we do. If a client is looking to wow a client base in Las Vegas, they call us."
In addition to the Exhibit Rentals Las Vegas, U.S., P.O.P. Exhibits has rental clients in countries around the world, including Britain, Spain, Italy, India and Brazil.
For more information visit http://www.tradeshowrentalexhibit.com
Contact:
P.O.P. Exhibits Inc
Wes Carlson, President
800-880-6498 or email display(at)popandexhibits(dot)com