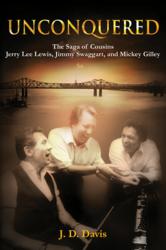 3-in-1 bio offers readers an entertaining and epic story of perseverance and the power of family ties. - Publishers Weekly
NASHVILLE, TN (PRWEB) October 30, 2012
The 2012 CMA Awards celebrates new book "Unconquered: The Saga of Cousins Jerry Lee Lewis, Jimmy Swaggart, and Mickey Gilley"(Brown Books Publishing Group) by J.D. Davis of Dallas, Texas, featuring it in this year's CMA Celebrity Gift Lounge.
"This 3-in-1 biography is an entertaining and epic story of perseverance and the power of family ties," says Publishers Weekly. To view the book trailer click here.
The CMA Awards will recognize the best in country music on November 1. But long before Carrie Underwood, Brad Paisley, and Taylor Swift there was Jerry Lee Lewis—currently listed among the Top 50 All Time Billboard country artists—and country music legend and the "Original Urban Cowboy," Mickey Gilley.
In his new book "UNCONQUERED" author J.D. Davis invites readers to an eye-opening look inside the private lives of Jerry Lee Lewis and Mickey Gilley, who are not only first cousins, but related to another famous first cousin: gospel singer and televangelist Jimmy Swaggart—three cousins inseparably bonded through music; each rose to fame, their stories legendary.
Through extensive research, Davis weaves a unique tale of American music set against the backdrop of the Depression-era American South. Davis recreates the irresistible and life-changing power of music that surrounded the cousins as boys and shaped their engagingly distinct paths to fame.
Jerry Lee Lewis—the Killer—went on to become one of the earliest performers of rock 'n' roll, alongside Elvis Presley, and is among the original class to be inducted into the Rock and Roll Hall of Fame. Jimmy Swaggart—the Preacher—became one of the most successful gospel singers and televangelists of all time. Mickey Gilley, the youngest—the Cowboy—has had seventeen number one hits and was part owner of the renowned Gilley's, the world's largest honky-tonk.
"God, the devil, and everything in between. This book is a great representation of the duality plane on which we exist," says Leon Russell, legendary musician and Rock and Roll Hall of Fame member.
"I realized there was a fascinating story to be told," says Davis. "While much has been written about each of them—particularly about Jerry Lee Lewis—I found that no one had ever integrated their stories, and I feel privileged to have been able to tell it."
To learn more, please visit: http://www.UnconqueredTheBook.com
Also note: http://www.goodreads.com/book/show/13645282-unconquered
Books are available online and in bookstores everywhere.
About the Author
J.D. Davis has been a fan of the music of Jerry Lee Lewis, Jimmy Swaggart, and Mickey Gilley much of his life. Davis was raised in Quitman, a quiet community in the piney woods of East Texas. A successful businessman and entrepreneur, he manages a large consulting practice. He has three daughters and lives near Dallas, Texas.
About Brown Books Publishing Group
"Unconquered" was published by Brown Books Publishing Group, a Texas-based independent publisher. For more information about the publisher, please go to http://www.BrownBooks.com. For information about the book, please go to http://www.UnconqueredTheBook.com.
# # #