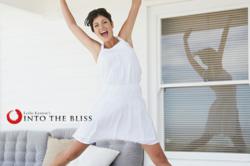 The energy you had when you were children doesn't just disappear as you get older. You just need to know how to rediscover it and set it free, no matter what your age.
San Francisco, California (PRWEB) October 31, 2012
"I've got no energy" is the complaint Leslie Kenton hears most often from men and women. It's a problem everyone encounters at some time, a general feeling of sluggishness coupled with a lack of motivation and a sense that they just don't have that sparkle anymore that makes life enjoyable. For many a lack of energy can be the inevitable result of constantly juggling the balls of work, family and relationships.
At intothebliss.com, Leslie tackles the problem head on. "Energy potential is always there within you. It just needs to be rediscovered then set free," she says. Using her trademark no-nonsense, practical, approach Leslie has broken the fatigue issue down into 10 simple thought-provoking steps.
The first step is a surprising one. She points out that the way people think and feel is inextricably linked to how their bodies function. What few people realise is that the mind and the body are continuously communicating with each other via nerve pathways, hormones and chemical messengers. "The first step," Leslie says, "requires a real change of perspective. Start to see your body as not external to yourself but as the physical expression of who you are."
The other nine steps are no less surprising. For instance, she gives no instructions to join a gym. Instead, when Leslie talks about exercise she speaks enthusiastically about discovering something easy and fun to do. In another step Leslie suggests keeping an energy diary to note down thoughts and feelings about what unconscious, energy drainers might be holding a person back.
Other steps include 'Move For Joy,' Laugh it off,' 'Clear the Junk,' and 'Eat Real Foods'
Her suggestions on improving eating habits in order to increase energy are hard-hitting and employ the latest scientific research. Considering Leslie Kenton's background, this is not so surprising.
Leslie Kenton is a British-based, award-winning writer and broadcaster well known for her in-depth reporting on health and spiritual subjects. According to London's Time Out "If there is one health expert who can genuinely be described as pioneering and visionary, it is Leslie Kenton." Leslie has written more than three dozen best-selling books for Random House UK. She conceived and created the worldwide Origins range for cosmetic giant Estee Lauder. A former consultant to European Parliament for The Green Party and a course developer for Britain's Open University, Leslie is trained in Chinese medicine, nutrition, homeopathy and bioenergetics. She was the first Chairperson of the Natural Medicine Society in the UK and her contribution to natural health was honored by her having been asked to deliver the McCarrison Lecture at The Royal Society of Medicine in London.
Leslie Kenton is a living embodiment of high energy living, and an expert whose advice is exceptionally well researched, tried and tested. To find out more about her amazing 10 steps to energy, visit her at intothebliss.com.
Company Information
Leslie Kenton is an award-winning writer, nutritionist, broadcaster and social activist well known for her work in television and journalism throughout the English-speaking world. She is a living example of vitality. According to Cosmopolitan UK "She is the source that everyone reads and quotes, a one-woman Wall Street of wellbeing."