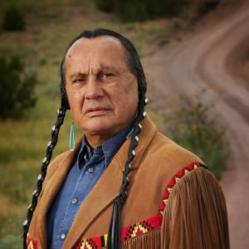 We didn't play cowboys and Indians. We played Indians and Indians,
Rapid City, South Dakota (PRWEB) October 29, 2012
Russell Means passed away on Monday October 22 at the age of 72. Co-founder of the of the American Indian Movement (AIM), Means was one of the principal organizers and spokespersons of the 1973 occupation of the village of Wounded Knee on the Oglala Sioux Reservation in South Dakota. He was a controversial Native American activist, author and widely-respected film star.
Lakota People's Law Project Chief Counsel Daniel Sheehan began a 40 year friendship with Means when he helped to defend Means against criminal charges stemming from Wounded Knee. Sheehan summarized the significance of Means. "When Russell Means stood astride the barricades at Wounded Knee with his rifle held high, he led his people out of 100 years of the bondage of fear and quiet acquiescence to the system of repression and privation imposed by the forces of avarice and greed."
Means was born to his role according to Madonna Thunder Hawk, who was his first cousin. A noted activist in her own right, "We didn't play cowboys and Indians. We played Indians and Indians," Thunder Hawk remembers. "Russ was the leader of the pack from a young age. He organized and led epic battles for land and hunting grounds that would continue for days. We would only go home to eat and sleep."
Thunder Hawk said that there wasn't a specific point in time or a specific event that marked her cousin's emergence as a leader and national figure. "We were too busy surviving. We didn't have the type of life that allowed you to sit back and reflect," Thunder Hawk recalls. "The only media available early on was state controlled media. We had no real access to the news of struggles for change. Occasionally, we would hear of things relating to civil rights or we studied about the forced relocation of the Japanese. As bad as these things were, they were nothing compared to our oppression and we were invisible to the rest of the country."
According to Thunder Hawk, her parents' generation had a different consciousness. Nevertheless, their parents and elders were supportive. "You are doing what we should have done," Thunder Hawk recalls Means' mother telling him.
Thunder Hawk recalled that as national media started to focus on the American Indian Movement in the 1970s, journalists and broadcasters were attracted to her charismatic cousin and they started to make a star out of him. "They were making stars out of the leaders and that's when people might have started hearing of him for the first time, but the struggle had been going on for some time."
"He was the last of the warriors for what we knew as the Native American way of life. We are now fighting for the American way of life. This will be our focus in this century," Thunder Hawk observed. Returning to thoughts of Means' mother Thunder Hawk said, "I am certain that she is receiving him joyfully now that he has passed over to the ancestors. He can finally have the rest that he has long deserved, with his head held up high. There will be other heroes and warriors, but none like him."
Sheehan commented on the passing of an age with the passing of Means, "Thus comes to an end the forty year period in American history in which the Lakota People of The Great Sioux Nation threatened to rekindle a truly effective nationwide movement demanding the justice that has been denied to them, the People of the Seven Council Fires, the Oceti Sakowin Oyate, for 160 years since the Treaty of Fort Laramie in 1851.Yet it comes to an end, not with the violent uprising that a few had feared and that many more had hoped for, but with the final breath of a great warrior."
Sheehan voiced the hope that the dream that Means inspired with his personal power and with the force of his will "will take root in the hearts of many who will take up the fight that he has laid down."
The Lakota People's Law Project strives to assist the Lakota, Nakota, and Dakota People in their efforts to end the abduction of their children by the South Dakota Department of Social Services in violation of the Indian Child Welfare Act. The Lakota People's Law Project is sponsored by the non-profit Romero Institute in Santa Cruz, California.