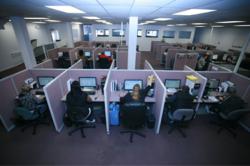 Our Spokane facility offers customers the advantage having of high-caliber customer service agents represent their businesses 24/7
Spokane, Washington (PRWEB) October 31, 2012
Sound Telecom, a nationwide provider of 24-hour Telephone Answering, Call Center and Cloud-based Communication Services, is not letting the economy slow them down; at least not in Spokane. During a recent hiring blitz spurred on by new account growth Sound Telecom added 13 new call center agents to its growing staff. Recently, Sound Telecom won the Inc. 5000 award for one of the fastest-growing privately held businesses in the USA. That continues to be true today as evidenced by this new round of hiring.
"We are bristling with calls!" states Spokane-based Director of Operations John Dubay. "Because of the quality of work that we provide, we have added a large number of new customers and we need to keep pace with the demand. This last month has been an exciting growth period for the company." Sound Telecom maintains a national customer base which allows it to serve small, medium and large-sized businesses no matter where they are located. "We are the local solution," notes Chief Operations Officer, Brian Gabriel. "Our Spokane facility offers customers the advantage having of high-caliber customer service agents represent their businesses 24/7."
Local business owners in Spokane, Eastern Washington and Northern Idaho are greatly appreciative of the work provided by Sound Telecom. Pam Lund, CEO for Girl Scouts of Eastern Washington and Northern Idaho (GSEWNI) commented on a recent project completed for them by Sound Telecom. GSEWNI engaged Sound Telecom to increase their Girl Scout membership base. Pam said, "The phone-a-thon got great feedback from our team and we picked up new members; both girls and adult volunteers. Thank you for the service you provided to us!"
According to the Bureau of Labor and Statistics (http://www.bls.gov/lau/home.htm) Washington State is averaging an 8.6% unemployment rate. "My goal, as president and founder of Sound Telecom," states Michael LaBaw, "is to drive that unemployment figure down. It has been a lifelong goal of mine to create meaningful and productive jobs for people. I am appreciative of the role that we play in the local Spokane market."
About Sound Telecom
Sound Telecom is a leading provider of 24 hour Telephone Answering, Call Center and Cloud-based Communication Services, headquartered in Seattle professionally serving thousands of customers throughout the United States and Canada with USA based agents. The twenty-six year old company has offices in Seattle and Spokane, Washington and Denver, Colorado.
Contact Information
Sound Telecom
Michael L. LaBaw, President
800-577-1550
http://www.sound-tele.com