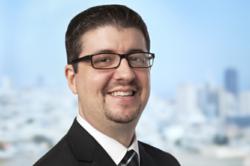 Jason has a rare combination of strategic and hands on experience that can be applied in meaningful ways, providing our clients with a true partner who can help them take leadership positions in their respective industries. - Khris Loux, CEO of Echo
San Francisco, CA (PRWEB) October 29, 2012
Echo, the first and largest real-time web platform provider, today announced that Jason Hoch has joined the company as their new SVP of customer strategy and product marketing. Hoch comes to Echo from WWE, where he served as SVP of digital operations and led the company's award-winning digital strategy across web, mobile, social and video platforms.
In his new role, Hoch will apply his deep expertise to help Echo customers leverage real-time technologies to become more agile, social and profitable. Having led digital transformations for Discovery Communications and WWE using Echo's solutions, Hoch will work closely with Echo customers to build a roadmap that reimagines their social strategy, examines related business efficiencies, and applies those learnings towards a more effective business model.
"Jason can look at the Echo toolset through the eyes of the customer and lay out a full vision and execution plan that is capable of transforming their business," said Khris Loux, CEO of Echo. "He has a rare combination of strategic and hands on experience that can be applied in meaningful ways, providing our clients with a true partner who can help them take leadership positions in their respective industries."
Hoch is a 17-year digital veteran, having held senior leadership positions across a wide array of media and entertainment brands over the last 10 years. Prior to WWE, Hoch was vice president of product and mobile development for Discovery Communications' collection of digital properties. He was a key member of the HowStuffWorks.com leadership team that was acquired for $250 million in 2007 by Discovery Communications.
"The Echo story is one of constant pushing, pulling, innovating, succeeding, thinking big and always asking for more," said Jason Hoch, SVP of customer strategy and product marketing for Echo. "When executives are willing to embrace new technologies in a disruptive fashion, they have the power to move markets."
Jason Hoch's work has been nominated for and won numerous awards in the Social TV space. Hoch is a frequent speaker at industry events and his work has been featured industry publications such as Mashable, The Next Web, Lost Remote and Tech Crunch. In his first appearance as an Echo executive, Hoch is scheduled to speak at the Social TV Summit New York on November 8, 2012, where he will share his unique perspectives on how media companies can translate engagement into revenue generating programs.
About Echo
Echo provides the industry's first and largest real-time web platform, enabling the rapid implementation and scale of applications for social TV, social music, social news, social sports, social commerce and social finance. Brands can leverage the Echo platform to transform their static websites and mobile apps into real-time experiences that significantly boost traffic, increase user engagement, and drive more revenue. A leader in the space, Echo currently serves over 1 billion streams per month for brands including ABC, AMC Networks, ESPN, NASDAQ, NBC News, The Washington Post, Universal Music Group, USA Network and WWE. To learn more, visit http://www.aboutecho.com.