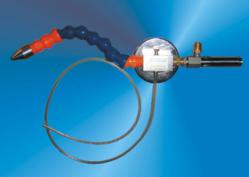 Toronto, Ontario (PRWEB) October 29, 2012
The Nex Flow Frigid-X Sub Zero Vortex Tool Cooling Mist System, is a unique patent pending mist unit designed to improve machining operations requiring cooling and/or lubrication when dry machining cannot be used. Unlike mist systems that supply liquid which is not cooled, or more costly systems that cool the liquid, the simple design of the Sub Zero Vortex Tool Cooling Mist System, supplies and cools the liquid to as low as 40 degrees F (5 degrees C) using a small vortex tube without any additional pumping system. The result is a low cost and essentially maintenance free system that supplies cold liquid reducing the mist volume by as much as 20%, enhancing the environment and safety while reducing the cost of coolant or lubricant. .
The liquid is cooled using a small vortex tube that uses 5 SCFM (142 SLPM) at 50 psig (3.5 bar). An adjusting screw controls the level of mist. Liquid is siphoned into the unit using a long plastic tube connected to the main unit. A heavy duty removable magnet secures the system. Magnet can be removed and mounting holes used to secure the mist system. Only moving part is the liquid flow adjusting screw to assure long life and maintenance free operation.
Frigid-X Sub Zero Vortex Tool Cooling Mist System Advantages:
. No electricity required – simplicity in design
. low cost, no costly pump system
. reduces coolant/lubricant cost using by less fluid
. improves safety with less mist
. no moving parts except for an adjusting screw for the fluid
.small and lightweight, portable
. maintenance free operation
Frigid-X Sub Zero Vortex Tool Cooling Mist System Applications:
. Solid Carbide End Mills
. Wherever lubrication is required in machining
. When cooling is required beyond the capability of cold air alone