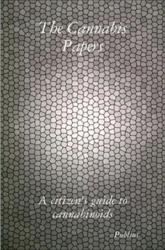 The cannabis conflict has morphed into a matter of will – the willfully ignorant versus the willingly scientific.
Chicago, IL (PRWEB) October 31, 2012
As America celebrates the 42nd Halloween since the Controlled Substances Act was adopted in 1970, the authors of The Cannabis Papers remind US citizens that Nixon's policy still operates as a very scary trick on the public.
The war on cannabis has had two distinct federal laws. First there was the 1937 Marihuana Tax Act, which was ruled unconstitutional by the US Supreme Court in Leary vs. U.S. (1969). Into this vacuum was sucked Nixon's contribution to 21st century cannabis policy – the 1970 Comprehensive Drug Abuse Prevention and Control Act. This law contains the Controlled Substances Act (CSA) making cannabis Schedule 1 (nonmedicinal).
In March 1972, Nixon was presented with the radically tolerant conclusions of The National Commission on Marihuana and Drug Abuse: the recommendations were rejected. It was the year of Nixon's re-election and two years before his disgraceful resignation.
"Nixon is history and yet his tricky law lives on," observed Brickner, publisher and coauthor of The Cannabis Papers: a Citizen's Guide to Cannabinoids (2011). "Though it's only a matter of time until knowledge upends ignorance. The cannabis conflict has morphed into a matter of will – the willfully ignorant versus the willingly scientific."
Brickner concluded: "Ignorance had a great friend in Nixon; the absence of a sincere political debate this election year to ending Tricky Dick's war is acquiesce to that war – and to Nixon's disgraced legacy."