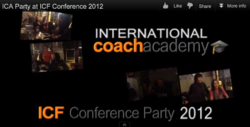 So great to meet so many coaching students from all around the globe.
Melbourne, Australia (PRWEB) October 29, 2012
Graduates and trainers of International Coach Academy were among the organizers and highly-regarded presenters at the recent International Coach Federation Global Conference in London, UK. The ICF Conference attended by over 900 coaches from 56 countries from across the world offers coaches new techniques and concepts through incredible programming, opportunities to network, and lots of fun.
ICA trainers who played major roles in the ICF conference include: Alexandra Barosa of Portugal, Sponsorship Subcommittee and Prism Award Review; Serban Chinole of Romania, Education and Evaluation subcommittee; and Katerina Kanelidou of Greece, Conference Steering Committee and Co-chair of the Marketing Subcommittee.
Also, ICA graduate Ana Maria Sarmiento of Singapore, co-presented the Powerful Learning from the Inside Out program and trainer Alan Seale, who received a standing ovation for his presentation The Deep Simple: Getting to the essence for breakthrough and transformation.
Along with conference activities, ICA students, graduates and staff from around the world met up at the Blue Anchor Hotel in Hammersmith, London for conversation, connection and celebration.
Check out the video http://www.icoachacademy.com/blog/coach-training/conference-party/
"There's something amazing and, perhaps, even magical when our community of coaches meet for the first time in person," says CEO Robyn Logan. "It speaks to our vision as a coach certification school to change the world for the better one person at a time."
# # #
About ICA. International Coach Academy is one of the world's leading providers of coach training programs and certification. We are a well-established school for those who want to be a coach. Globally more than 5,000 students have attended the International Coach Academy from more than 90 countries.
Today, with over 60 full and part time staff and trainers located throughout the world, ICA operates around the clock, over multiple time zones. Students access courses from their homes and yet engage with people from every corner of the world.
Here adults become professional coaches while sharing and connecting with a global coaching community. We are extraordinary people who are bringing the power of coaching – the realization of the human potential for creativity and resourcefulness – to changing the world for the better.