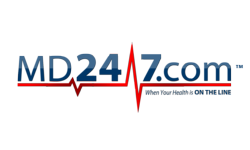 MD247 Reviews Remedies.
Tampa Florida (PRWEB) October 29, 2012
In an effort to maintain the evolution of its telemedicine blog, the team responsible for all content created by MD247 announced that the MD247 blog will be reviewing the topic of pertussis (whooping cough). The announcement came on the heels of the recently announced ramp-up of the annual whooping cough season, and the reality that there are a number of fraudulent treatments for pertussis making the roughs. The whooping cough articles are intended to take their place in the "MD247 Reviews Remedies" article series, and will likely be followed by periodic articles regarding flu symptoms and other seasonal illnesses.
Additional blog topics in the "MD247 Reviews Remedies" series will include coverage of popular, yet ineffective treatments for seasonal illnesses like the flu. The goal of the MD247 content team is to use the "MD247 Reviews Remedies" articles series as a consumer protection series, giving all readers an extra value for their time spent reading.
Largo Florida based MD247.COM (MD247; MD/247; MD 247; M.D.247; MD-247) provides an affordable telemedicine supplement to existing healthcare services. MD247.COM telemedicine program members have unlimited telephone access to a nationwide medical support team, all with just a single phone call to the MD247.COM telemedicine Chat With a Doctor/Talk to a Nurse Hotline. MD247.COM has a virtual platoon of registered nurses; board certified physicians and a support staff available to members for all non-emergency situations. More information about MD247.COM is available online at http://www.md247.com.