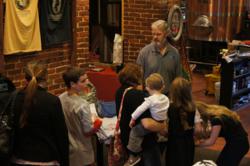 It is always exciting when we get to participate in an event and give back to the community.
(PRWEB) October 29, 2012
PHI eManagement Solutions teamed with Intown Manchester, the Manchester New Hampshire Promotional Team, to collect canned goods and raise money for New Horizons for New Hampshire as part of the Manchvegas Zombie walk on October 27th.
PHI Solutions designed shirts and mugs for the event as well as sold their popular Zombie Apocalypse Survival Kit. Sara Beaudry, from Intown said that we could not have been successful without PHI. They brought the capability to design and produce the sale items on short notice as well as donated products to raffle off and raise money.
The most popular item was the Zombie Apocalypse Survival Kit. People lined up just to see the contents and then buy raffle tickets. Gil Colon, who oversaw the donations, said that he unpacked the kit for people to see at least twenty times during the course of the afternoon.
PHI has a tradition of helping local charities. In addition the Zombie Walk donation, PHI recently donated a Zombie Apocalypse Kit to Great Bay Kids Company, a local nonprofit preschool. This kit sold for over $145.00 during the silent auction almost twice its suggested retail price.
Ralph Huber, president of PHI, said that they are still helping to raise money for New Horizons and are keeping the online sales open. Anyone wishing to make a purchase and support New Horizons can go to:http://phi-emsolutions.com/products-page-2/manchvegas-zombie-walk. Huber said that they are going to keep the promotion going through Thanksgiving because people can really use the help.
PHI Management Solutions, Emergency Management Division, offers many different home and institutional products for emergency planning. They also have free downloads and information links designed to inform and assist individuals, families, organizations and businesses prepare for emergencies. Our team is composed primarily of veterans with over 90 years of combined service. Each member of the team has proven themselves through combat command and has extensive experience in disaster response and planning. Team members have commanded response forces and/or participated in several disaster responses to include the 2005 crash of a civilian airliner in Afghanistan, Hurricane Katrina 2005, Southwest New Hampshire Flooding in 2005, New Hampshire Statewide flooding in 2006, Epsom NH tornado response in 2007, the 2008 New England Ice Storm, 2009 Anthrax Response in Durham, NH, the 2010 Wind Storm, Hurricane Irene in 2011, and the October 2011 New England Snow Storm.