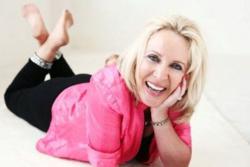 ..the bulk of life exists beyond 50..
(PRWEB) October 29, 2012
Ari Seth Cohen's hugely successful blog Advanced Style has been flying the flag for older beauty since 2008 and Cohen's street-style shots of beautifully dressed octogenarians have graced the pages of several well-known fashion magazines and other glossies. Since then, Cohen's eye for older style has gone global. Lanvin used 62 year-old Tziporah Salamon to model its autumn/winter 2012 collection as part of a 'real people' campaign and M.A.C. Cosmetics sold out of the makeup range worn by 91 year-old Iris Apfel in an advertising campaign earlier this year. The word is out! Older women rock, and advertisers and retailers can no longer ignore these intelligent, financially independent and discerning shoppers.
Hipster high-street label American Apparel usually causes a stir because its models look too young, but earlier this year an entire campaign for the brand was fronted by a grey-haired model of 60, Jacky O-Shaughnessy, living proof that the trend towards the veneration of older women is no gimmick. This trend has helped redefine what society defines as beautiful, underscoring the fact that the bulk of life exists beyond 50, because demographically, the vast population is over 50.
To make a case in point, octogenarian supermodel Carmen Dell'Orefice proved that she still has what it takes as she took the catwalk twice in one day at New York Fashion Week. The 81 year-old New Yorker, who is known within the fashion industry for being the world's oldest working model, looked effortlessly chic as she showcased gowns for designer Norisol Ferrari and by Finnish label Marimekko. She was joined at both shows by 51 year-old American actress and model Carol Alt and together they had a combined age of 133 years!
Proving that women do not have to be fabulously beautiful to grace the pages of a glossy magazine is 86 year-old Angela Lansbury, the star of 'Murder She Wrote'. Lansbury is on the cover of the latest issue of cult magazine The Gentlewoman, a publication that has previously featured Adele, Christy Turlington and Celine designer Phoebe Philo on its front page. Penny Martin, editor of The Gentlewoman wants the trend for older women in fashion to become a permanent shift. "It's great when women who are not ordinarily included in mainstream media are featured purely because they're great, rather than representing some awful theme, like the 'Age Issue', she says. And the message being sent out there is, sit up and take notice as you seek to attract this demographic slice of ageless divinity.
Wisanow is an Online Female Support website catering for the mature woman with a variety of age specific information and resources for its older and midlife women community.