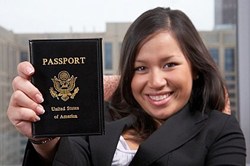 Customers can get free to Apply Visas if they book tours, hotels, and flight tickets on the website
(PRWEB) October 29, 2012
Smile Travel Vietnam, one of the leading travel companies in Vietnam, has joined the Internet age for 5 years. In the recent time, it has launched an online booking service, offering Vietnam visa, tours, hotels, and flight tickets for customers worldwide. People can apply online or apply directly at Vietnam embassy in their own country.
Vietnamvisaapplication.org provides an application form at Vietnam embassy. Then, applicants can download it from the website without reaching to the embassy. It is obliged to attach an original photo. In case of a loose-leaf-visa request, an additional photo must be stapled to the form. If people have already got a visa approval, they can write the reference number on the top of the form. Anyone who comes to Vietnam for less than 3 months and does not have a visa approval should leave "visa approval number" blank and the embassy will take care of it. Additional processing fees for visa approval may be required.
However, to save time and avoid lengthening procedures, customers are advised to apply a visa online. Overall, it is the most effective and easiest way for residents to obtain a visa. Just spending several minutes filling in the online form, customers can get a visa after 2 or 3 days. The procedure is quite easy and simple since the travel agency is responsible for the service.
Besides, this new website also offers customers a table of visa fees so that they can consider carefully prior to their booking. Each type of visa has its own price. For instance, single entry in 3 months for one pax is at the price of $28 However, customers can get free to Apply Visa Online if they book tours, hotels, and flight tickets on the website.
More interesting and useful information on Vietnam visa is available for help. Get access to the website to have more details.