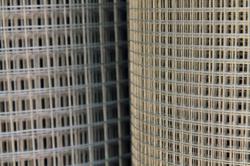 ..local councils are planning to introduce regulations to force cat owners to confine their cats..
(PRWEB) October 30, 2012
Murray Stewart of Aviary Wire Mesh has some great ideas for keeping precious moggies safe from predators. There will always be a problem with the next door neighbour's dog or other cats roaming the neighbourhood or, worst thought of all, snakes. Also, an increasing number of local councils are planning to introduce regulations to force cat owners to confine their cats to stop them from wandering and causing mayhem among the native birdlife. Cats are very efficient predators and if allowed to roam free can take a huge toll on birds and other small animals such as geckos and lizards. Also, cats are prime targets for being run over by vehicles and attacked by dogs.
Aviary Wire Mesh have a huge range of welded wire mesh products but it is the black PVC coated, welded mesh that Murray is advocating as the best material to build a cat enclosure, either on a pergola or back deck, to keep the cat in and the other pests out. This will also come in handy when your cat is 'on heat'. There is another reason he recommends this product particularly for an enclosure such as this, is that black PVC doesn't interfere with the view of the great outdoors, or of the precious moggie inside!
Black PVC coated, welded mesh is the only product of its kind in Australia and is so much stronger and longer lasting than synthetic netting products. This synthetic netting can catch birds and also cats can be caught up in the netting. Welded mesh is a great product to keep not only cats safely enclosed but birds, reptiles and other animals. Black PVC coated, welded mesh is the only wire mesh that protects the sensitive skin of animals and the plumage, beaks and feet of birds from abrasion, due to the softer finish of the PVC coating.
Welded meshes are ideal for all sorts of other applications, such as to prevent the movement of unwanted materials, (animals, birds, debris and the like) from one location to another. An example is at the Queensland Rail Workshops Museum, where mesh has been used to prevent the possibility of glass fragments falling from any shattered panels into the public areas below. Other applications include protecting stained glass windows from projectiles and preventing birds flying into factories and similar buildings.
A really clever use of black PVC coated, welded mesh is to cover raised vegetable gardens, keeping all sorts of unwanted visitors such as birds, rodents and marsupials away from the tempting goodies inside. This is a simple but highly effective use of welded wire mesh fencing to enhance a property. For more information on this product, simply go to http://www.aviarywiremesh.com.au to discover many more uses for this and many other outstanding products produced my Aviary Wire Mesh - Your Wire Mesh Supplier.