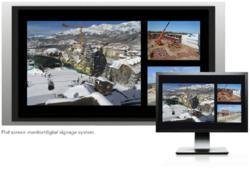 "The new tools create a perpetual window of understanding for everyone working on the project,"
Chandler McCormack, President, OxBlue
(PRWEB) October 30, 2012
OxBlue, a leader in the construction camera industry, announced today the availability of a new system to help create a deeper ongoing understanding of construction progress. The tools are designed to enhance collaboration, communication and marketing opportunities for anyone connected to a project—with almost no direct user interaction required. "These new tools move project data off of traditional computer interfaces and into a more immersive and proactive environment," shared Chandler McCormack, President of OxBlue. "With images of the project persistently viewable on walls of offices and work spaces, project teams are effortlessly aware of what's going on throughout the life of the project by being exposed to it environmentally."
The first tool being released is OxBlue's Multimedia application, which dynamically displays real-time high-resolution images from the construction camera on computer monitors and flat screens, eliminating the time and effort associated with accessing traditional software interfaces.

Once installed the system requires no user interaction
Multiple dynamic viewing modes are available
Jobsite weather conditions are displayed with each image
Ideal for use on large flat screens or even as a desktop screensaver
"With this technology, you can be working on something else and just check your project at a glance," explained McCormack. "It puts the project front and center around the clock, while removing the burden on users to navigate multiple screens or interfaces in order to receive updates on the project."
The second tool being released by OxBlue is the new Jobsite Update service, which enables users to schedule regular delivery of images through email, providing users with automated visual reports where and when they are most convenient.
Frequency of updates is scheduled by the user to maximize productivity
The schedule can be changed or cancelled at anytime
Jobsite weather conditions are documented with each report
Last is Project Bookmarks, which enables users to tag images for easy retrieval to track project states or specific events in time.
"The new construction camera tools create a perpetual window of understanding for everyone working on the project," explained McCormack. "It's another step in making sure that everyone working on a project, or anyone who stands to benefit from the project, will be able to stay personally connected to the jobsite effortlessly and in real time."
The OxBlue Multimedia application, Jobsite Update service and Project Bookmarks are available for use by OxBlue clients as part of their existing service. There are no additional charges. "It's been our philosophy that solutions that create value for our clients create value for us," explained McCormack. "In keeping with that belief, we're providing these tools as part of our platform at no additional cost to clients."
The OxBlue Multimedia System is available to clients upon request. The Jobsite Update and Project Bookmarks service are now available through OxBlue's online construction camera interface.
About OxBlue
OxBlue is a leading construction camera service provider, with hardware, connectivity and expertise across 6 continents and all 50 states. We enable constant access to jobsites through high-resolution construction webcam images. OxBlue's construction cameras connect people on and off site, and measure variables such as labor, risk, quality and materials. The cameras provide accountability and increase communications between construction companies and clients.