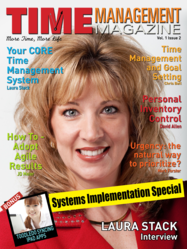 The great dividing line between success and failure can be expressed in five words: "I did not have time."
Franklin Field
Winnipeg, Manitoba (PRWEB) October 29, 2012
Subscribe today to Time Management Magazine and receive Issue 1 free as well as Issue 2 when it is released. Digital publishing is a new medium with some unexpected benefits for readers. A new subscriber to Time Management Magazine, prior to the release of an issue, will receive the current available issue plus the next issue when it is released. A magazine representative stated, "This is a great way for readers to take advantage of the mechanics of the App Store to find out what Time Management Magazine is about."
Issue 2 of Time Management Magazine continues the coverage of time management principles and ideas started in Issue 1. Issue 1 focused on giving readers an overview of different time management systems. Issue 2 shows readers practical methods for implementing time management systems.
Issue 2 of Time Management Magazine contains productivity enhancing articles, interviews, how-to and videos from some of the world's foremost authorities on time, energy and productivity management. Look for information that challenges how you think of time management systems.
Those who purchase a subscription for the magazine will instantly receive a 40% discount on the cover price of the magazine and a 1-month free trial. In addition to these savings, those who opt-in to the mailing list will receive an additional free month. That would mean it is possible to receive 2 months of Time Management Magazine absolutely free. If a subscription is started prior to November 4th, not only will the benefits outlined apply, Issue 1 will also be available without additional cost. After November 4th, Issue 1 will only be available as an individual purchase price of $4.99 USD.
About Time Management Magazine :
Time Management Magazine is an iPad only magazine available from the Apple App Store Newsstand. The digital Time Management Magazine features articles and videos packed with valuable time management and productivity information.