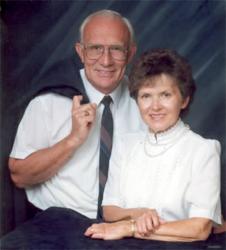 (PRWEB) October 30, 2012
Sweeping the kitchen floor might not seem like a blessing, but for Esther Officer of Gwinner, North Dakota, it was a rewarding experience. A year earlier, Esther had been in so much pain as a result of a combination of rheumatoid arthritis, fibromyalgia, osteoarthritis and skeletal hyperostosis that simple household tasks were nearly impossible. Even receiving hugs and handshakes were excruciating.
"I felt like I was a big, red ball of inflammation," Esther told a reporter for her local newspaper, the Sargent County Teller, "and I was thinking of going into a nursing home. "
Fortunately for Esther, some thirty years earlier Dr. Virgil Stenberg, then a professor and research scientist at the University of North Dakota, had been moved by the severe rheumatoid arthritis pain his own wife Helen was enduring. When common treatments and surgeries provided little or no relief, Dr. Stenberg searched for a solution, and eventually found it. He went on to establish the non-profit Helen Foundation to make the FDA-compliant hormone-replacement solution now known as Microdose TherapyTM available to others.
Microdose TherapyTM teaches patients how to use physician-prescribed cortisol tablets only as needed to control long-term, destructive inflammation. When used like insulin for diabetes, patients use so little cortisol that cumulative overdosing side effects are avoided.
Desperate for relief from near-constant pain, Esther contacted the Helen Foundation and enrolled for Microdose Therapy. Within weeks her painful inflammation subsided dramatically.
"It felt like I was flying on air," Esther recounted to the newspaper, "and it sure has been a blessing."
Indeed, so impressed was Esther's husband Jim that he enrolled in Microdose Therapy for his own arthritis. "I can attest to it," Jim told the reporter, "It worked for me like it did for my wife."
Dr. Stenberg said that Helen Foundation is now celebrating a 20-year record of safely delivering dramatic symptom relief to thousands of arthritis and fibromyalgia patients like Jim and Esther Officer. According to its website at http://helenfoundation.com, patients typically report dramatically greater symptom relief than obtained by prevailing treatments, and there have been no cases of significant side effects.
Helen Foundation protocols shared with supervising physicians are informed by a detailed experiential database of diagnostics, dosages and symptom scores for thousands of treatment cases. Dr. Stenberg noted that protocols include screening for infections and food allergies because they are prevalent among patients with inflammatory, auto-immune disorders. Helen Foundation nurses and educators directed by an on-site licensed physician work with the patient and his or her supervising, prescribing physician by phone and other means wherever they may be located.
Dr. Stenberg discovered that inflammation causes the body to make a cortisol pulse in the blood that arrests inflammation. Those with arthritis inflammation can't make a strong enough pulse to stop the inflammation, giving rise to the chronic, long-term, and painfully destructive inflammation characteristic of fibromyalgia, arthritis, and other rheumatic and auto-immune disorders. Dr. Stenberg's treatment became known as Microdose Therapy because patients are taught to take small amounts of cortisol only when needed. A spokesman said that the Helen Foundation database is indispensable to safe, effective and sustainable treatment, and is believed to be the only of its kind for cortisone-hormone replacement therapy anywhere in the world.
Dr. Stenberg is the author of Arthritis: The Simple Solution and Fibromyalgia Solved and numerous articles published in scientific and medical journals. The non-profit Helen Foundation is headquartered in Arizona, but collaborates with supervising physicians throughout the United States. Free consultations are offered to individuals visiting the website http://www.helenfoundation.com and information for physicians may be found at http://www.helenfoundation.com/Microdose-Therapy-for-Physicians/