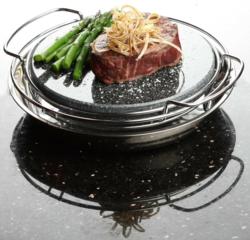 For those looking for that one-of-a-kind gift for the person who "has it all," Rok's Home Cooking Set is the perfect choice.
San Jose, CA (PRWEB) October 30, 2012
Rok Cooking is offering its lowest price ever on its hot rock Home Cooking Sets. For only $59.99 for 2 sets, users can enjoy a restaurant quality hot rock experience right in their own home. Extreme home cooking has never been more fun or more affordable than it is right now. Rok's hot stone Home Cooking Sets are the perfect holiday or wedding gift for that special someone who has everything or the foodie that would love the latest cooking utensil sensation. These hot stone cooking utensils are amazing and unique and can be given to anyone from the health-conscious dieter to the most particular of dining connoisseurs. Or simply purchase Rok cooking utensils for yourself and amaze holiday guests with incredibly delicious and entertaining gourmet meals.
Rok guarantees the most delicious steak anyone has ever tasted. The sizzling heat of the hot rock completely sears the meat, locking in all the juices, nutrients and natural flavors. Bursting with aroma, every bite is hot, juicy, incredibly delicious…and healthy too. Its flavor and taste is unparalleled.
Using Rok's volcanic cooking stones, anyone can cook and serve healthy, delicious, and enjoyable meals without being a master chef. Rok's cooking utensils are also a great choice for families or individuals who love to entertain but just don't have the time to prepare elaborate meals. The holidays can be hectic with meal planning, shopping, and socializing with family and friends. With Rok cooking utensils, one can prepare a meal in minutes while entertaining the family at the same time. Rok's home cooking utensil sets have rocks that can be heated on the stovetop in minutes but will cook food for up to half an hour. Diners of all ages love cooking with Rok, especially picky children. From the dining room to the patio, using Rok cooking utensils is a year-round event.
For those looking for that one-of-a-kind gift for the person who "has it all," Rok's Home Cooking Set is the perfect choice. And at just $29.99 per set ($59.99 for a box of 2), it is the most affordable hot stone cooking utensil on the market today.
About Rok Modern Stone-Age Cooking
Rok is the leader in the design, manufacturing, and distribution of rock cooking products to restaurants and homes worldwide. For nine years, Rok has produced and offered a compelling cooking product to restaurants and individuals looking to think (and cook) outside the box. The Rok Commercial Cooking System includes the Premier 650 High-Temperature Oven designed exclusively for use with hot rocks and delivering energy-efficient, health conscious food preparation with the educated restaurant owner in mind. The Rok Home Cooking system offers the most engaging and affordable interactive hot rock cooking experience for today's discriminating home cook who is looking to prepare healthier and more entertaining meals. To sum it up, Rok is "Modern Stone-Age Cooking at its Finest!" For more information about Rok Cooking, please visit http://www.rokcooking.com.