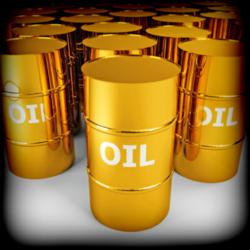 With the 12th-largest oil reserve in the world, any major disruption to the oil flow from Libya could send world oil prices surging.
New York, NY (PRWEB) October 29, 2012
In a recent Investment Contrarians article, editor George Leong reports that there has been some dumping of oil stocks out there, as the price of the December West Texas Intermediate (WTI) futures contract plummeted to the $85.00 level last Tuesday. (Source: IndexMundi, last accessed October 26, 2012.) With the downside move, Leong notes that oil is back in a technical bear market, down 22% from its contract high in March 2012. ("Short-Term Energy Outlook: Market Prices and Uncertainty Report," U.S. Energy Information Administration, May 2012.) Yet, according to Leong, the chart for crude oil is displaying what looks like a bullish flag formation setting up, which means oil prices could be heading to back over $100.00 in the best-case scenario.
Leong notes that the continued erosion in the major economies in the eurozone, the U.S., and China will provide support. He adds that geopolitical issues in the Middle East will also have an impact on oil prices.
Leong also expects oil prices to be supported by the Organization of Petroleum Exporting Countries (OPEC), which estimates that oil prices in nominal terms could hold in a range of $85.00 to $95.00 a barrel for the rest of this decade. (Source: World Oil Outlook, Organization of Petroleum Exporting Countries, 2011, last accessed October 23, 2012.)
Noting that oil prices are estimated to trade below $100.00 a barrel for the next eight years, Leong states that volatility is inevitable, and could drive prices to well above $100.00.
"With the 12th-largest oil reserve in the world, any major disruption to the oil flow from Libya could send world oil prices surging," reasons Leong. "Likewise, a conflict in Iran could send oil prices higher."
The Investment Contrarians expert concludes by advising investors to accumulate oil stocks on weakness going forward.
To see the full article, and to get a real contrarian perspective on investing and the economy, visit Investment Contrarians at http://www.investmentcontrarians.com.
Investment Contrarians is a daily financial e-letter dedicated to helping investors make money by going against the "herd mentality."
The editors of Investment Contrarians believe the stock market and the economy have been propped up since 2009 by artificially low interest rates, never-ending government borrowing, and an unprecedented expansion of our money supply. The "official" unemployment numbers do not reflect people who have given up looking for work, and are thus skewed. They believe the "official" inflation numbers are also not reflective of today's reality of rising prices.
After a 25- to 30-year down cycle in interest rates, the Investment Contrarians editors expect rapid inflation caused by huge government debt and money printing will eventually start us on a new cycle of rising interest rates.
Investment Contrarians provides unbiased research. They are independent analysts who love to research and comment on the economy and investing. The e-newsletter's parent company, Lombardi Publishing Corporation, has been in business since 1986. Combined, their economists and analysts have over 100 years of investment experience.
Find out where Investment Contrarians editors see the risks and opportunities for investors in 2012 at http://www.investmentcontrarians.com.
George Leong, B. Comm., one of the lead editorial contributors at Investment Contrarians, has just released, "A Problem 23 Times Bigger Than Greece," a breakthrough video where George details the risk of an economy set to implode that is 23 times bigger than Greece's economy! To see the video, visit http://www.investmentcontrarians.com/press.