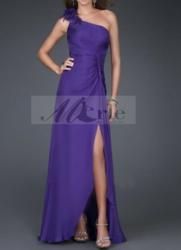 Shopping for prom dresses online can be fun and exciting.
(PRWEB) October 29, 2012
A ball always marks a landmark event in a teenage girl's life. Recently, all kinds of Prom Dresses have become popular in the USA. According to the Merle Dress marketing department, their USA turnover of ball gowns and prom dresses has increased 38% in the last two months.
According to a survey by Merle Dress, most girls surveyed in the USA admitted to trawl the internet for hours in search of the perfect dress before visiting shops to purchase. Many young ladies in the USA are investing time and money in making great first impressions as they splurge student loans on perfecting their look for the first big event in university life.
Ball gowns and prom dresses are reserved for the most extravagant white tie affairs and social occasions. Ball Gowns have been around for centuries with numerous modifications to the style.
Merle Dress has gained a reputation over the years for exceptional choice and expert customer care.
Donnie Terry, CEO of MerleDress.com, said, "Shopping for prom dresses online can be fun and exciting. With the click of a mouse, you can easily browse through dozens, or even hundreds, of prom dresses in the latest fashions and styles. Moreover, There is a 25% off at our range of sexy prom dresses."
Whether you are searching for trendy dresses for prom, an elegant evening dress for a gala or a hot number for a night on the town, Merle Dress may be a good choice you should try.
Questions about buying prom dresses and prom dresses online? Merle Dress Community is ready to help you there.
About Merle Dress
MerleDress.com is the leading supplier of wedding dresses, prom dresses, evening gowns, and wedding dress accessories from China. Merle Dress started with a basic idea of helping women dress better and is now famous for its outstanding quality in fabric, materials, and fit without the inconvenience and costs of traditional bridal boutiques and retailers.