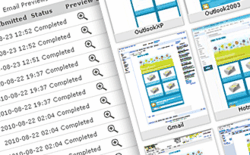 The number of marketers who test email campaigns rose to 42% from 2010.
Geneva, Switzerland (PRWEB) October 31, 2012
The micro-global email marketing service provider is also offering this tool free via their global network of franchised partners, representing GraphicMail on every continent. Equally, the company's resellers are due to benefit from this offer as they will be able to add further value to their own clients' marketing communications needs.
The decision to offer Inbox Preview free to GraphicMail account holders was supported by the findings of the 2012 MarketingSherpa Benchmark report. According to the author Jeff Rice, who previously this year has co-represented GraphicMail's virtual webinar on email, mobile and social marketing, the percentage of marketers who test email campaigns rose to 42% from 2010. The report further states that most routinely tested email elements are the subject line (72%), message (greeting, body, closing) and layout and images (50%).
It is here that GraphicMail has recognized the importance of giving their clients a testing tool that is both fun and easy to use. While subject-line testing is also offered free by GraphicMail via their AB test tool (helping clients to improve on their open rate), Inbox Preview assists their users in achieving a higher click-through and engagement rate. First brought to market late in 2010, it supported the company's advances into mobile couponing and communications, since Inbox Preview also lets users see what a newsletter would look like on a handheld device.
Says CEO Nicholas Eckert, "A major part of our client satisfaction policy is to make sure that we give them the best tools possible to achieve the highest return on investment on their email, mobile and social communications campaigns. It is painful to test newsletters manually on various email clients – you'd need an account or a friend with an account on Gmail, Outlook, Lotus, etc and it'd turn out extremely time-consuming. So this is where we introduced Inbox Preview that lets you preview your newsletter right inside your GraphicMail account".
This is not where GraphicMail left it at. They have recognized the need of their clients to also be able to fix their newsletter according to the preview report. Their HTML Email Optimizer runs an HTML fix report across all major email clients, resulting in a list of optimization suggestions. Font, margins, link elements, style elements are inspected, and the reports can result in advice such as "Use inline CSS" , "Stack tables" and on which clients those changes are necessary, from Android Gmail to Palm, Hotmail, Lotus Notes to AOL Desktop just to name a few.
"As powerful as it is, we don't encourage email marketing novices with no or little HMTL background to make use of our Email Optimizer tool. We advise less advanced email marketers to check what email clients their newsletters are opened the most in, via our actionable reports, and then to ensure if their email campaigns look good on those email or web clients via Inbox Preview. The 80/20 rule applies!", reckons Eckert.
Why is automated preview testing of newsletters so important?
1 – Each one of the many web-based email services such as Yahoo Mail has its own unique way of displaying newsletters
2 – While Microsoft launched Outloook.com and Outlook 2013 in Beta phase, with their own design challenges, still many users are on the 2007 package which has no support for background images and forms, for instance
3 – According to Edison, 44% of Americans own a smartphone; and a recent Knotice study showed that 27% of emails are read on mobile devices and tablets, which means a higher demand of big buttons for clumsy fingers and the adjustment of newsletter design to tiny screen sizes or in the case of tablets, flip screens