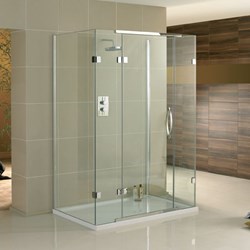 Not only do consumers gain a new shower, but receive a beneficial reduction in overall cost.
(PRWEB UK) 30 October 2012
The bathroom market is developing within current home renovation and manufacturers are releasing new products to help gain the most fresh and up to date look. Bella Bathrooms are one of the leading online bathrooms stores within the UK and provide every new item in order to make any suite improvement an easier job. The company are currently stocking Aquadart and Prestige2 shower enclosures with the addition of free delivery on the entire order. Not only do consumers gain a new shower, but receive a beneficial reduction in overall cost.
One of the most important aspects to any bathroom suites is the main shower or bath. At Bella Bathrooms, the company stock an extensive range of these products in various sizes, designs and colours, suitable for any bathroom suite. Within the Aquadart and Prestige2 range, customers can browse a variety of shower enclosure types such as wet rooms, quadrants and offset quadrants to help create a unique design and sense of feel in any room.
The new range of products are all available in a variety of prices allowing any consumer to buy a high quality product no matter what budget. Whether the purchase is for a full room renovation or single item upgrade, the company assure to have something suiting individual taste. Their website can be easily accessed and features a simplistic design to help home owners find exactly what they are looking for quick and efficiently.
As it is important for consumers to select a product that is not only suitable for them, but for their suite also, an extensive range of sizes are available to suit any room. Ensuring the correct sized enclosure is bought can highly affect the room layout and design. For smaller bathrooms, it is vital a smaller enclosure is bought to avoid space limitation allowing room for other key elements. For home owners with a larger room, the ultimate touch of luxury can be added by purchasing a wet room or walk in shower. These two large alternatives are perfect for anyone with a wider scope of space as the simplistic design creates a clean look.
Shower enclosure products the company sell are designed by the finest manufacturers in the UK including April Products and Tavistock all backed up by a company guarantee to help gain the most out of anything bought. Checking the Bella Bathrooms site regularly will allow consumers to gain the latest product range and the company's online blogs are brilliant in providing in-depth information about new items.
About Bella Bathrooms:
Bella Bathrooms is one of the finest UK online bathroom retailers based in the North-East of England and offer continuous great deals of bathroom refurbishments, shower, towel rail and radiator updates, stylish bathroom furniture and various other key elements at prices that are guaranteed to be unsurpassable. The latest updates continuously made have further improved the overall quality and they have set a high standard for things to come in the future. The company also own a number of other e-commerce sites with their latest addition being ibathroomsuites offering most bathroom suites with a next day delivery service.
Bella Bathrooms
Tel: 0844 8117 017
Available to contact from 9am – 5pm