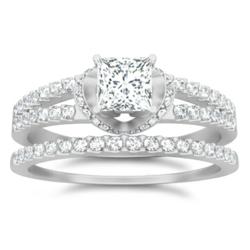 Customers can find wedding ring sets and bridal sets at very cheap prices on JewelOcean.com
Baltimore, MD (PRWEB) October 30, 2012
Bridal sets are becoming more and more popular around the world, but also more expensive. A bridal set is a group of rings, including the engagement ring and the wedding ring. As the demand for bridal sets continues to rise, JewelOcean continues to introduce innovative designs for the lowest prices. The matching diamond rings are handmade with care, as they are prepared to be distributed to loving couples around the globe.
JewelOcean offers bridal sets, otherwise known as wedding ring sets or wedding sets, in a variety of different shapes, colors, and styles. The perfect wedding ring set will incorporate the woman's ring size, favorite centre stone, as well as her favorite type of gold. The bridal sets that are available at JewelOcean.com encompass all of these factors, and more, when providing their customers with the cheapest bridal sets. Most commonly, bridal sets come with a pair of two diamond rings; however, there are also trio wedding ring sets available on JewelOcean.com.
The wedding ring sets by JewelOcean feature a princess cut or round cut diamond, on a white gold or yellow gold band. The white and yellow gold bands are available in 10k, 14k or 18k gold. There are several unique styles, as well as simpler bands available for the traditional couple. Not only are traditional rings available, but there are numerous classic, antique, and modern ring designs, as well. As always, the rings are available in sizes 4.5 to 9; however, if a different size is requested, customer support will be happy to assist the customer in the purchasing process.
Since quality is important to most couples, JewelOcean guarantees a high quality, on all its wedding sets. It is now possible to find the perfect wedding ring set for bargain prices. Starting from $599, the bridal sets are available for any budget. With the lowest price guarantee, customers are sure to love the options presented on JewelOcean.com. For the customer's convenience, there are several closeout sales taking place right now, offering discount prices on the finest bridal sets. For information about the layaway option, be sure to visit the payment layaway information page at JewelOcean.com.
Providing flawless customer service is the main goal of JewelOcean, as they have served couples for over 10 years. Receiving excellent feedback and positive ratings, JewelOcean endlessly supplies couples with the diamond bridal sets they love, for only a small asking price. Even though you cannot put a price on love, you can still search for the cheapest prices at JewelOcean.com.
JewelOcean, a leading online retailer, sells only the finest handcrafted diamond bridal sets. Specializing in diamond wedding sets, JewelOcean presents an abundance of options for these wedding rings. For affordable prices, men can purchase special, customized bridal sets for women, giving them a gift from the heart. With thousands of customer reviews and ratings, JewelOcean is proving that providing good customer service really pays off. To see more options regarding diamond bridal sets, check out the website at JewelOcean.com.