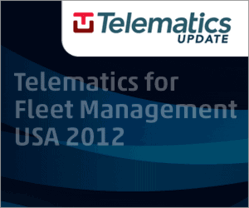 Atlanta (PRWEB) October 29, 2012
This annual event will bring the key players, from wireless carriers, service providers and OEMs to the USDOT, to discuss how connectivity in fleets is being utilized. The services provided in today's 'connected' world allows for more data than ever to be monitored and fed back into fleet operations to reduce fuel expenditure and lower carbon emissions. At the same time there is increasing concern within the USDOT and the FMCSA regarding the distractive properties of these services to drivers. These issues which can affect the entire industry of connected services for fleet management is the reason that such a conference is being held by Telematics Update.
In talking about the conference, Chad Sallman, Business Development Manager, Garmin added:
"The Telematics for Fleet Management conference is the one time of the year that brings together the entire ecosystem of MRM solution providers under one roof; I always look forward to meeting and collaborating with my peers in the fleet management industry and sharing insight on the latest trends, technology and ideas which will further evolve the space for all participants (Chad Sallman, Business Development Manager, Commercial Fleet Management, Garmin)."
The Telematics for Fleet Management Conference USA 2012 in Atlanta is the platform for the leading companies and key stakeholders to converge and discuss the economic and technological issues that affect fleet management services.
More attendees than ever, including representatives from Volvo Tucks, GE Capital, Clean Cities Atlanta, Five Star Foods, USDOT, CPAC Systems, Pioneer Natural Resources, Hertz and many others will be in Atlanta over the two days to network and join these crucial discussions.
30+ Expert speakers including GM, USDOT, Telogis, Wright Express, Sprint, Donlen, CPAC Systems, Rogers Communications, GE Capital, Zurich and Liberty Mutual will discuss:

Key findings and nuances of emerging global markets emerging trends
How to accelerate the adoption of fleet telematics using value added services
Methods to transform your data into actionable intelligence for fleet operations
An examination of the insurance industry as it integrates telematics data and equipment within the fleet sector
For the complete Telematics for Fleet Management USA 2012 conference program and speaker line-up, access the e-brochure at http://www.telematicsupdate.com/fleet/conference-event-brochure.php, or, contact the Telematics Update team at fleet(at)telematicupdate(dot)com.
Fleet operators attend for free – There are still some passes left. To find out if you qualify for a free conference pass follow this link: secure.telematicsupdate.com/fleet/register.php.
After last year's Telematics for Fleet Management conference, Tony Padilla, Program Manager-Telematics, ADT Security Services said, "As a Telematics Program Manager for a large US fleet, I found the show to be a great opportunity to learn and share ideas with other industry leaders."
For more information contact the Conference Director on the details below:
Andrew Pym
Conference Director | Telematics Update
apym(at)telematicupdate(dot)com | +44 (0) 207 375 7599
http://www.telematicsupdate.com/fleet