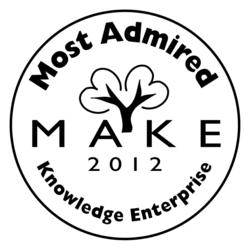 Mike Pfister, ConocoPhillips CIO, said: "As a global company, we strive to collaborate and leverage our collective knowledge as we execute on our programs and plans."
New York (PRWEB UK) 30 October 2012
Teleos, in association with The KNOW Network, has announced the Winners of the 2012 Americas Most Admired Knowledge Enterprises (MAKE) study. This year's 10 Americas MAKE Winners are (in alphabetical order):
-- Amazon.com (United States)
-- Apple (United States))
-- APQC (United States)
-- ConocoPhillips (United States)
-- Ecopetrol (Colombia)
-- Fluor (United States)
-- Google (United States)
-- IBM (United States)
-- Microsoft (United States)
-- Schincariol (Brazil)
A panel of North, Central and South American-based Fortune 500 senior executives and internationally recognized knowledge management / intellectual capital experts selected the Winners. The panel rated organizations against the MAKE framework of eight key knowledge performance dimensions -- visible drivers of competitive advantage and intellectual capital growth:
-- Creating an enterprise knowledge-driven culture
-- Developing knowledge workers through senior management leadership
-- Innovation
-- Maximizing enterprise intellectual capital
-- Creating an enterprise collaborative knowledge sharing environment
-- Creating a learning organization
-- Delivering value based on customer/stakeholder knowledge
-- Transforming enterprise knowledge into shareholder/stakeholder value
Apple has been recognized as the Overall Americas MAKE Winner for the fourth consecutive year.
Successfully managing enterprise knowledge yields big dividends. The 2012 Americas MAKE Winners' average Return on Revenues (ROR) was 16.5% -- 4.5 times that of the Fortune 500 ROR company median. The average Return on Assets (ROA) for the 2012 Americas MAKE Winners was 13.4% -- nearly 5.4 times that of the Fortune 500 ROA company median.
2012 Americas MAKE Hall of Fame
A total of 83 organizations have been named Americas MAKE Finalists since the Americas MAKE research began in 2002. And, of this group, only 35 organizations have been recognized as Americas MAKE Winners.
An even more select group of organizations form the 2012 Americas MAKE Hall of Fame. These seven organizations have been Americas MAKE Finalists in each of the past five annual studies: Apple, APQC, ConocoPhillips, Fluor, Google, IBM and Microsoft.
Teleos
Teleos, an independent knowledge management and intellectual capital research firm, administers the MAKE program. The KNOW Network is a Web-based global community of organizations dedicated to achieving superior performance through networking and best practice knowledge sharing.
The MAKE research program consists of the annual Global MAKE study -- the international benchmark for world-class knowledge organizations -- and regional MAKE studies for the Americas, Asia and Europe, as well as national MAKE studies in Brazil, Hong Kong, Mainland China, India, Indonesia and Iran.
Contact Teleos for the free "2012 Americas MAKE Report" Executive Summary.