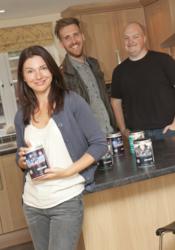 It really has been a true collaborative effort by some great British Companies and I honestly couldn't have done it without any of them.
(PRWEB UK) 30 October 2012
The sky is the limit for Distinctive Wash Ltd with their unique biological and designer label-safe washing powder for the Bond street gentleman and his luxury items.
Entrepreneur and creator of Distinctive, Louise Knowler, was told she had an impossible task ahead of her when she first began to design Distinctive in early 2011.
The ethical laundry label she worked for as a brand and marketing consultant were well aware of the pitfalls and challenges facing new entrants into the laundry market but these obstacles did not deter Louise.
Armed with mission impossible Louise found manufacturers and packaging specialists with whom she could develop her concept into a Distinctly British product.
One of the first to get on board with Louise's unique product was Reflex Label's, often in the headlines for their acquisitions and World firsts in Digital print.
Louise said: "Manufacturing and packaging cost implications are normally huge for a new brand. As a new starter, with only my own money as an investment, having to commit to manufacture hundreds of thousands of products straight off to secure a manufacturer just wouldn't have been viable.
"Reflex have completely steered my packaging solution. They advised on everything from the material we used down to testing on colours and special effects such as foil on the packaging. Their factory in Boston was even responsible for providing application of labels to the first 750 test tubs produced - something that would have been a nightmare to organise personally."
Currently Reflex is helping drive innovation with the launch of refill packs.
Louise said: "I have been so lucky to find such fantastic suppliers. Ideal Manufacturing in Northants and Carvansons fragrance experts in Lancashire have both also been behind the brand at every stage. Including producing batch after batch of hand mixed samples in the early days.
"It really has been a true collaborative effort by some great British Companies and I honestly couldn't have done it without any of them. Here's to hoping a few years down the line I'll be able to show them it was all worth while."
So what's in the package?
It's a laundry powder with the addition of a designer fragrance - boasting an amber and sandalwood scent. The formulation itself has been declared designer label-safe because it is devoid of the the UV dyes that make coloured fabrics appear faded and worn before their time - something men don't want to happen to a designer label dark shirt and expensive jeans.
Louise said: "Men just don't want the faff of having to use different laundry products for different items – especially if they dry clean their suits and maybe only have one load of washing to do a week.
"Distinctive has attractive packaging and the brand design and product has had notable comments, including positive response on Twitter from staff that work on the Lynx brand. The product is also being reviewed by GB athlete and Olympic hockey player Alastair Brogden."