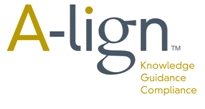 (PRWEB) October 29, 2012
Each newsletter includes important articles relevant to compliance, and features an audit spotlight section, as well as their upcoming events.
Scott Price, A-lign CPAs Managing Director, Neil Gonsalves, Director of Assurance and Compliance Services, and Gene Geiger, Director of A-lign Security and Compliance Services recently presented a webinar entitled "Compliance Alphabet Soup" to demystify compliance regulations. Attendees gained insight into the new regulations that affect their business. Slides are available and can be requested via the 'Contact Us' portion of A-lign's website: http://www.aligncpa.com/about-us/contact-us/.
A-lign CPAs is a registered sponsor for Group-Internet Based CPE Programs and is listed on the National Registry of CPE Sponsors: http://www.learningmarket.org/page.cfm/Action=Exhib/ExhibID=2246/loadSearch=2622861_1086.
A-lign's webinars and newsletters are provided as a complimentary service to encourage anyone affected by these regulations the opportunity to learn from their vast knowledge and experience within the regulatory and compliance arena. Visit A-lign's Resources Page to access their most recent whitepapers, press releases, and upcoming events at: http://www.aligncpa.com/resources/.