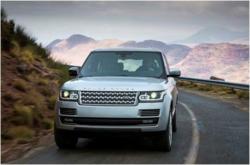 (PRWEB UK) 29 October 2012
Land Rover Range Rover 3.0 TDV6 Vogue Auto
A CAR designed to cross the Sahara or crest the Atlas mountains that one is more likely to drive around the M25 or across London. Probably the most capable car in the world, and at the price, it should be.
It's the new Range Rover, of course. With the best engine for business car users, the new TDV6.
The TDV6 tested here is the engine that makes most sense for business car drivers
Land Rover's new 3.0 V6 turbodiesel engine is superbly refined, smooth and powerful. The car's double-glazed windows help seal out unwanted noise, so the driver is not cocooned in the tall, 4x4-capable equivalent of a luxury saloon. It is the first Range Rover with an all-aluminium body, making it 180kg lighter.
For those who can stretch to the £71,725 price – or a staggering £98,395 if going for the 5.0-litre V8 supercharged petrol Range Rover Autobiography version with all the bells and whistles – It's a business car in which one can literally go anywhere in limousine comfort. It's chairman of the board motoring.
For the majority of SME business owners and directors, though, it's the new V6 diesel Range Rover that makes most sense as a business car.
The new TDV6's power output is 258PS. That's the least of the three engine versions, but the best for efficiency. The official fuel economy is 37.7mpg and CO2 emissions are 196 g/km. That means the potential company car tax is a 33% banding in 2012/13 tax year.
The other diesel engine for business car use in the new Range Rover line up is a 4.4 litre V8, with 339PS. But with 32.5mpg fuel economy and 229g/km CO2, that puts it in top-rate 35% for benefit-in-kind company car tax purposes. That's the same as for the V8 supercharged model, with a whopping 510PS, fuel economy of 20.5mpg and CO2 emissions of 322g/km. The transmission in all versions is a ZF eight-speed auto.
The Range Rover reviewed here for this business car test Is the Vogue model, priced at £71,295 on the road.
What's hot?

Lighter by 180kg and more fuel-efficient
All-aluminium body with same look but more streamlined details
Terrain Response 2 system now fully automatic
Very impressive to drive, better road-holding and more nimble than previous Range Rovers
The most business-friendly engine, the TDV6, is also the most refined
Strong performance with 600Nm of torque in the TDV6
Acceleration from 0-62 in 7.4secs with 130mph top speed for the TDV6
Lower CO2 emissions for company car tax purposes: 33% in 2012/13
Choice of four or five-seat configuration, opt for only two rear seats for optimum luxury
Rear seats recline electrically so you can sleep in them
More toys for back seat passengers, for when you chauffeur your business colleagues or
clients.

Maximum ground clearance up by 13mm to 296mm, in case you ever want to swap your
business car brogues for wellies and go off-road.
What's not?
•Stonking price makes it a very expensive business car.
•Improved fuel economy still means heavy fuel bills.
•Big car, the Range Rover needs a large parking space.
•Over-cushioned head restraints push your neck too far forward.
•Some clunky satnav features, cumbersome way of changing map scale.
Business Car Manager road test verdict
There is a massive difference between the old model Range Rover and this new one – and not just the saving in weight or the new V6 turbo diesel engine.
The new Range Rover represents a major step-up in luxury, with superb cabin quality and a reduction in driver workload. The number of switches has been halved, and the dial-a-surface Terrain Response is now automatic.
The new Range Rover can wade through water up to 900mm deep, thanks to a redesigned engine air intake system with high channels just under the bonnet that have been nicknamed 'Queen Mary funnels'.
We would agree that the running costs remain high (although reduced), and one can expect to pay for it in company car tax allowance should one choose to run it through the company. Meanwhile, they shouldn't forget to make sure their parking space is reserved – the new Range Rover is a big vehicle.
But the new Range Rover's superlative on-road luxury not to mention its fabulous dexterity off-road fully justifies its aristocratic status – exactly what one would want from a business car when running a successful SME business.
Land Rover Range Rover 3.0 TDV6 Vogue Auto – the low down
P11D Value: £ 70,780
Monthly business car lease (ex VAT) From £984 (3 yrs/30,000 miles)
Company car tax bands 2012/13-2014/15: 33%, 34%, 35%
Benefit-in-kind tax 2012/12-2014/15 £23,357, £24,065, £24,773
Engine: 3.0 6cyl turbocharged diesel
CO2 Emissions: 196g/km
Power/torque: 258PS/600Nm
0-62mph/Max speed 7.4s/130mph
Economy: 37.7mpg
Keep up to date with our business car news and read our company car advice to help you make the right decisions.
For more information, visit Business Car Manager at http://www.businesscarmanager.co.uk/